I received this salad recipe via email from a mom in the school yard back in 2007. The email was printed and has been in my "recipe binder" (do you have one of those? or am I the only one!!) and it's a keeper. Promise you – this salad is a real winner.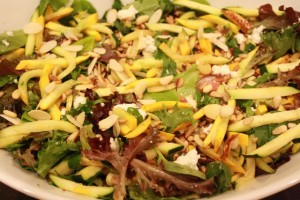 I like this salad as it has the perfect combination of nuts, cheese, greens and  I love that the zucchini is slightly sauteed.
It's called ANTIPASTI SALAD.
Ingredients:
Mixed Greens
3 zucchini – unpeeled, julienned
2 tomatoes – finely diced
1 small red onion – finely chopped
1/2 crumbled feta
1/4 cup toasted almonds
1/4 cup toasted sunflower seeds
1/4 cup pistachios
1/4 cup toasted pine nuts
Instructions:
1. Place mixed greens in a large salad bowl
2. Heat frying pan. Add oil and lightly sautee the zucchini till tender (but not soft). Place the zucchini in the fridge to cool.
3. Heat another frying pan. Add nuts (all 4 varieties) and toast till aromatic.
4. Add the zucchini, the toasted nuts and the crumbled feta to the mixed greens.
Dressing:
2 cloves of garlic
1/4 cup red wine vinegar
1/4 cup olive oil
salt and pepper
Instructions:
Add the garlic into a cuisinart. Then add the olive oil, red wine vinegar and the salt and pepper. The cuisinart really emulsifies the ingredients and your end result will be a much better dressing.
Add the dressing to the salad and toss.
ENJOY.
PS if you are looking for a website with more great recipes – check out Life Made Delicious!
Disclosure: I am part of the Life Made Delicious Connector Program and I receive special perks as part of the affiliation with this group. The opinion on this blog are my own.