I have been training for the Mississauga half marathon since January. This means that I've been huffing and puffing on the treadmill at GoodLife Fitness 4-5 times a week. It also means that I'm more aware of what I'm drinking and eating. In particular I'm super aware of staying properly hydrated.
Please note, that plain tap water will always be my number one choice! But there are moments when I need a diversion. Do you know what I mean? So here's a list of other beverages that I'm enjoying these days.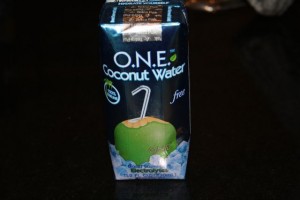 I'm in love with this drink. Especially after a workout due the huge amounts of potassium in this beverage (19% for 670 g). It's 100% coconut water and when it's super cold – it's delicious.
Talk about a refreshing drink!! As their website says "Pure Water. Real Mint". There's lots of different flavors – i.e spearmint, lemonmint, orangemint, and more – but I always seem to stick to the peppermint. On a side note:  I love the packaging.
Here's a list of other drinks that I consume occasionally. Very occasionally.
This soft drink is made with pure cane sugar and not high fructose corn syrup – which means that it tastes WAY better. The rootbeer and the black cherry are my favorites but there's lots of other great flavors too (grape, vanilla cream, orange, cola, birch, and gingerale). After you drink this brand it's hard to reach for Crush.
Beer:
Look at these two gorgeous bottles!! (Im a sucker for packaging – have you noticed?)
Great Lakes Brewery makes a refreshing Orange Pale Ale and Beaus All Natural is grabbing my attention too.  I will open one bottle after the Sporting Life 10 and the other bottle will be opened after the half marathon. Nothing like being prepared!!
What are you drinking these days?