I have a feeling a LOT of people wisely stayed home on Monday Oct 29th. I knew when I got in from work last nite that I was going NOWHERE and that I had lots of time to create a "comfort-food" type of meal for myself.
This was my idea of the perfect meal on a wet and windy misterable night: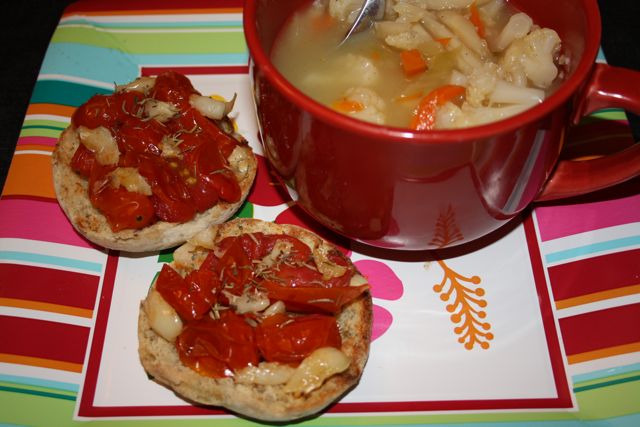 What's On my Plate:
-vegetable soup (home made – of course) from my freezer (of course)
-a toasted Oakrun Family Bakery Savory English Muffin with roasted grape tomoatos and roasted organic garlic. Sprinkled with dried thyme for additional flavor.
It was the perfect meal and exactly what I was craving, despite the fact that I'm on a no-carb diet (I can cheat every once in a while right?).
The Oakrun Family Bakery has introduced 3 different types of savoury english muffins: Jalapeno & Salsa, Sundried Tomato and Basil and Toasted Onion & Smoked Black Pepper. I have nibbled all three and love of all them. I'm all over anything that is flavoruful.
Please look at for these Savoury English Muffins at Metro, Highland Farms, Longos, Loblaws, Loblaws Superstores, Zehrs, Food Basics, Fortinos and ValuMart.
As the saying goes "try it – you will like it"!!
PS. what did you have last nite for dinner? do you crave comfort food when the weather is miserable too?