I've finally crossed another item off my Bucket list. This past week, I went to Detroit so I could finally visit a Trader Joes. That's right – I had never been to a Trader Joe's. I travelled to Detroit with my foodie friend @pronosher, who didn't mind joining me so we could "eat our way thru Detroit"
Here's a break down of Day 1 in Detroit.
9:00 a.m to 1:oo pm – travelled to Detroit. Quick check-in to the Hilton Garden Inn in downtown Detroit.
1:30 -2:00 p.m. – visited "GreekTown" which was a lot smaller than what we expected. Sadly we didn't discover anything particular unique.
2:30 – 3:30 pm. – dropped into Honey Bee Supermarket which is in Mexcian Town and not to far from downtown. I scored. I found spiced cajun boiled peanuts and scooped up a variety of other goodies as well. Thanks to @theChefUpstairs for recommending that we visit this unique supermarket.
4:00 – 4:30 – a quick visit to Taqueria Mi Pueblo. We knew we scored when we discovered we were the only caucasians in the restaurant. Inhaled a taco and tried hard not to eat the complimentary nachos and salsa. Operative words: Tried Hard. By the way, we went to this restaurant as a result of talking to a random stranger at Honey Bee Supermarket.
5:00 – 6:00 p.m. – took advantage of happy hour  at Roast so I could sample a variety of local Michigan Beer and eat Brussel Sprouts (thanks to @clickflickca for this recommendation). I sampled the following beers: Great Lakes Burning River Pale Ale, Jolly Pumpkin Bam Beer, Founders Brewery Dirty Bastard, Shorts Brewery Co Uncle Steves Dry Stout. Sadly no room to try one of their desserts that really appealed to me. Think: Beer and Pretzels.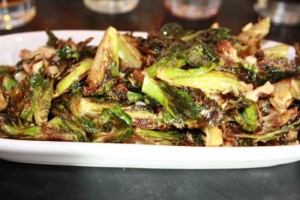 7:00 p.m – Trekked out to  Cadieux Cafe to take a peek at "feather bowling". This establishment is the only one in NORTH AMERICA that has this sport. Pretty Cool. It was worth the trek.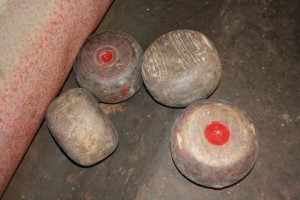 7:30 – 8:30 p.m. This was the highlight of my day…..We went to Trader Joe's. But the visit got really interesting, when I introduced myself to a sales person. I said  – "Hi Im a food blogger from Toronto and I'm wondering if someone could take me around the store to show me interesting items"…he then replies "are you momwhoruns? we have been chatting on Twitter". How totally cool is that? I mean..what are the chances!! We took photos and then @JoeFoodie walked thru the aisles suggesting items I should buy. (which I did…LOL). I will blog about my "Trader Joe's" products in another blog post. Promise.
9:00 p.m. Went to Slows as I had read that it was a really popular spot. It was true. We were pretty lucky to have found 2 spots at the bar otherwise it was going to be a 45 minute wait. I tried the split pea and okra fritters and loved the fact that you could see chunks of okra in this dish. Certainly not something I could find in Toronto.  I also shared a Rogue Chipolte Ale, which I've had before but hadn't had it in years, so I was thrilled.
10:00 p.m  We stumbled across Sugar House as we were walking back to the car. I was too full to consume one of their craft cocktails but @pronosher managed to drink a beautiful cocktail. This place reminded me of Bar Chef – great atmosphere and sophisticated unusual cocktails.
11:00 p.m – Finally back to the Hilton Garden Inn in Downtown Detroit so I could collapse into this ergonomical Mirra Chair designed by Herman Miller to write a blog post. I not only loved this chair but was delighted to stay in this hotel due to the great location and the amazing service. Plus there was a fridge in the room and not a mini bar – perfect for foodies.
To Be Continued…..