The other day I  received an invitation to go to the opening of Briscola Trattoria and I was delighted to accept. I  knew that Charles Khabouth, who is the founder and CEO of  the hospitality empire INK and  and Toufik Sarwa, the owner of Amber in Yorkville, would collaborate and develop, yet another successful venture.
I was not disappointed. The space is cozy and very inviting. I liked the whole layout….the intimate booths, the communal wood tables, and the interesting light fixtures too. (I noticed..LOL).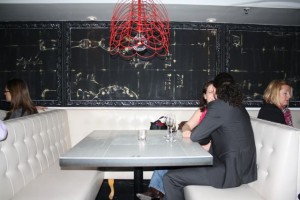 As for the food: I'm in love with the deep fried olives.
Not only did I enjoy all the appetizers, I enjoyed a few glasses of wine..(which means that I maxed out at two) and chatted with the lovely @geekigirl @christinallison @racboutique and @theFlist.
Always fun to meet new and old twitter friends at events. Plus it's great to be able to support new restaurants too.
I really hope you get a chance to visit Briscola Trattoria soon.  They are located at 501 College Street and open 6 days a week. For further info please click here: Briscola