I went to Arowhon Pines last year for my first time and was thrilled to be able to return. I love this property for these reasons:
a) Peace and Quiet: you will not hear powerboats or ski doos. The only thing you will hear will be the loons on the water and the birds. Sorry – no photos. The loons weren't cooperative and kept diving underwater.
b) The Scenery: you can't beat the scenery that comes with being in the heart of Algonquin Park.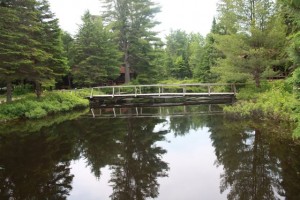 d) The Food:  Everything at this resort is made in house. Everything. Each meal is outstanding not to mention the outstanding service. Plus you are dining in this spectacular structure. It truly is an experience.
d) Nature: This particular visit, we had the chance to see not just moose…but a fox and a HUGE turtle (on land and in the water). These encounters make the visit even more special.
e) Their Commitment to Local Food:  They are so committed to using local suppliers that they are holding their  2nd Annual 100 mile Challenge Summer BBQ on Monday Aug 6th from 12 p.m to 3 p.m. All food served will be grown within 100 miles of the resort. Tickets are limited and are $32 p.p. Click here for more information about this amazing event.
f) The Service and The Staff: Everyone is friendly, personable and professional. From the grounds keeper to the front desk staff! This property understands the word: hospitality!!
To find out more about this spectacular Ontario resort (which is only 3 hours North of Toronto) ..please call: 1 866 633 5661