I never seem to get tired of going to food shows as I'm always looking for new products. It's just the way I am wired …I guess!! In any case, this years CRFA show (Canadian Restaurant and Food Show) did not disappoint me. I found several products that were new and this blog entry will be dedicated to them.
The first product, is called Molton Ice Glasses and infact they were  launched at the show. GBS Food Service Equipment saw these creative glasses in Europe and scooped up the rights to bring it into North America. I thought it was a genius idea and if (operative word – IF) I was throwing a party I know that this is one product I would want to get.
The next item that caught my eye, is a fantastic example of taking an existing product (i.e Extreme Bean) and creating a new way to serve it!! I loved this idea – it's a tempura battered Extreme Bean. Now, Extreme Bean has been around since 2000 however they recently partnered with Cavendish to create this delicious product. I am hoping that restaurant owners at the show discovered this product and will be putting it on their menus sometime soon!!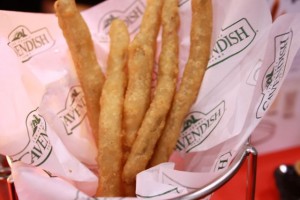 I also came across a new cheese (to be entered into my cheese diary, of course) called Albert's Leap. Nothing beats a creamy cheese with mushroom-like flavors. Not to mention that it's locally made in Ontario!!
I stopped at the David Rio booth as I loved the packaging of the product. David Rio, crafts a premium chai and loves animals so much that each product is named after an endangered species and they support animal welfare organizations as well. I sampled the Tiger Spice and loved it as it had just the right balance of spices and it wasn't too sweet. Plus all of David Rios' products are certified Kosher, gluten free and contains no hydrogenated oils or trans fat. (bonus).
Once again, the CRFA show did not disappoint me. I walked around for hours, shmoozed with vendors, sampled A LOT….and like a good foodie I went directly to GoodLife after the show to burn off a few calories on the treadmill.