This past weekend I went to Montreal to visit a good friend and to visit Jean-Talon Market. I had NO other agenda. It also helped that I had a friend do the driving!! (thanks M)
The trip started off with a quick visit to Buster Rhinos in Whitby. I ordered the pulled pork sandwich (as always) but also had the opportunity to try their EPIC BBQ ribs. Why oh why have I never tried these ribs before? Will now be ordering both items. It will not be a discussion!
When I went to  Jean-Talon Market, I bought the following: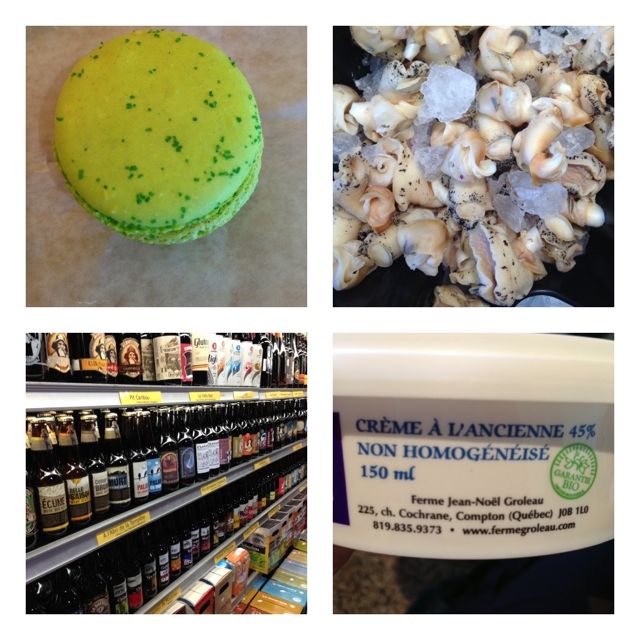 -Lime Basil Macaron: not sure I tasted the basil but was pretty happy with my macaron
-Bourgot:a member of the conch family and not easily found in Toronto
-Quebec Beer: was not easy to select from the massive selection but I did it. LOL. Bought a gluten free beer…go figger.
-Non Homogenized Cream : haven't tried it yet but something tells me it's going to be wicked. Can you see the numbers: 45%
I also picked up: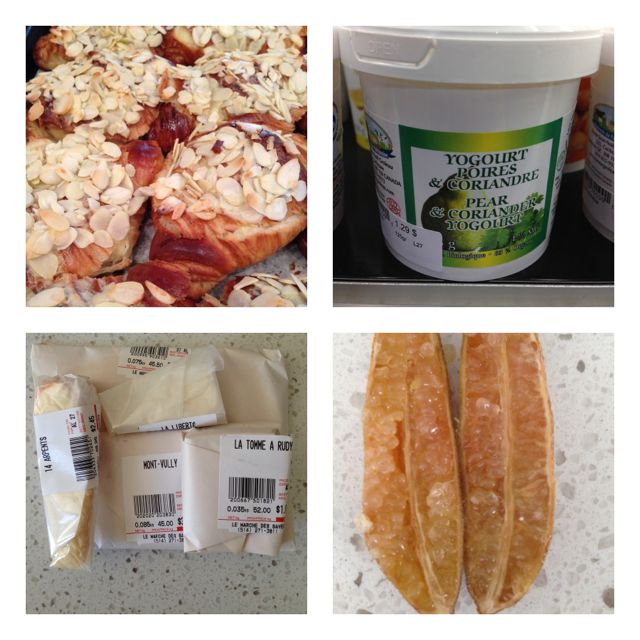 -a few new cheeses: La Tome A rudy, Mont Vully and a few more
-Australian Fingerlime : definitely hard to find this in Toronto
-Almond Croissants from Kouign-Aman :I've been here on my last trip but HAD to return to get my dose of these freakin' amazing croissants.
-Pear and Coriander yogurt: sounds amazing, doesn't it? Can you tell I like unusual flavour combinations?
The trip continued with yet a few more purchases: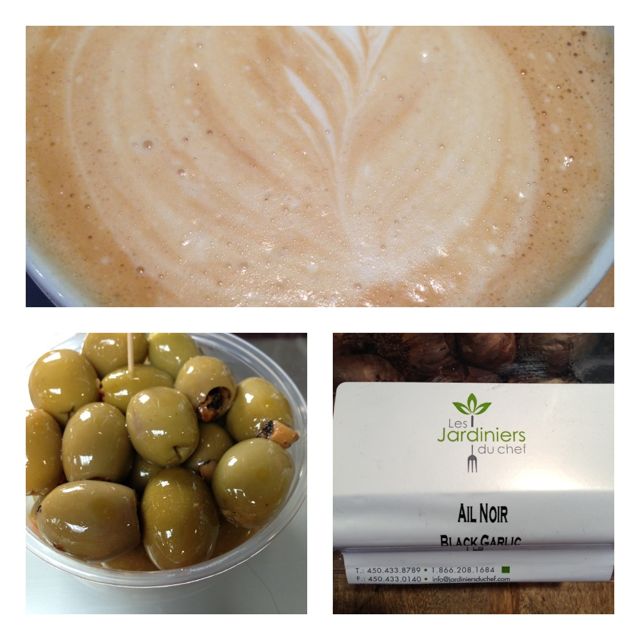 –Cafe In : for a much needed cafe au lait!!
-Sorry can't remember where the olives were from but they are stuffed with ORANGE PEEL. Never seen this in Toronto either
–Chez Louis: Purchased black garlic on my last trip and went back for another bulb. Can't wait to roast this bulb and serve it to guests.
As you can tell, I had an amazing time wandering thru Jean-Talon Market. No shortage of goodies here!!
Please note: Also came home with four bagels from St. Viateur and a tub of butter from La Ferme de Patrimonie! Don't get me started about this butter…it's that good!
For More Information:
Buster Rhinos Southern BBQ: (for da best bbq) 2001 Thickson Road, Whitby, ON
Koenig Aman Bakery : (for the freakin' amazing croissants) 322 Mont Royal Est, Montreal Quebec
Les Delices De La Mer (for the bourgot)
Le Marche des Saveur  Du Quebec (for local Quebec beer , cheese,and other local goodies)
Fromagerie Hamel; Butter, Cream, Cheese
Chez Louis (for unusual produce)
Brulerie aux Quatre Vents (for the macarons)
Coffee: Cafe In