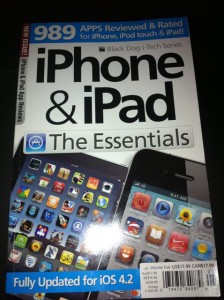 I buy magazines once or twice a year, but one day I was in the mood and purchased the iPhone & iPad magazine.  After dropping $$$ on the magazine, I BETTER be downloading some new apps!! It's certainly not a cheap magazine but I'm using it so it's worth it. (well that's what I tell myself).
A cheaper method of discovering new apps  would be to watch APP CENTRAL which is aired on CP24 every Sunday at 1030 a.m. This show is devoted to apps!! Brilliant. The PVR is helping me stay on top of the episodes or you can visit their website too. I'm so impressed with this show!  The hosts are fun, and the it's not too techy.  P.S. I discovered this show while using the treadmill at GoodLife Fitness – I love when that happens.
So here's a few app's Ive downloaded lately:
1. Shop Savvy: This app allows me to compare prices by scanning the barcode. For someone like me, who is always looking for the best price…this is perfect. (thanks App Central)
2. GoodReads: This app allows me to find out what my friends are reading (thanks to my cousin for this suggestion)
3. Find iPhone: This app will make sure I dont lose my iPhone like I did in March (dont get me started).
4. GasBuddy: This app allows me to find the cheapest gas. (thanks @appcentralTV)
5. TipCalculator: Self explanatory.
6. The Best of New York City: This is such a gorgeous LOOKING app. Its actually stunning to navigate thru the options. Im planning a trip to NYC and I think Im going to be using this app A LOT.
7. GetGlue – just downloaded it. Will get back to you. But it got a rating of 9.10. (thanks to iPhone & iPad magazine)
8. AllSportsGPS – I spent serious $$$ (for me, anyways) on this app. It cam highly recommended (9/10) and I'm sure I will be loving it in the summer as I run and ride outdoors. Well atleast, thats the plan.
9. FlashBoom:, This app will tell me how far away the next lightening strike will be. I'm sure this will become a useful app in the summer.
10: Flipboard: This app received 10/10. It allows me to browse thru facebook, twitter, news and more in a magazine format. Me. Likey.
Now it's your turn. What are your fav. apps?