As you know, I went to Jean-Talon Market last week. One of the items, I picked up was Kale. It was $2.50 and half the size of my arm – so I couldn't resist. I knew I wanted to make a salad with it and headed over to google to see if I could find an interesting recipe to check out.
I swear I selected this recipe because the blogger made me laugh out loud. I'm being honest. This is what made me chuckle:
"I know you need another kale salad recipe like you need another artisanal pickle, but I swear you'll love this one. And even if you don't, I have a mixing technique to offer that you can apply to the other 37 kale salads in your life."
Here's the Kale and Anchovy Salad recipe that I found on a blog called  Food52.
INGREDIENTS:
1 small garlic clove
2 anchovies 
Salt and freshly ground black pepper 
1/2 Meyer (or regular) lemon ( I used a regular lemon)
4 tablespoons olive oil 
1/4 small red onion, very thinly sliced 
1/4 teaspoon fresh thyme leaves  (forgot to buy fresh and ended up using dried thyme)
6 cups packed lacinato (dinosaur) kale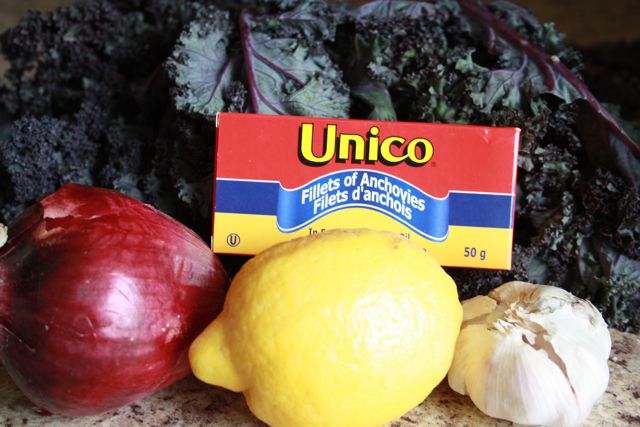 In a mortar and pestle, mash the garlic and anchovy with a pinch of salt to a paste. Blend in the juice from half a Meyer lemon. Then beat in the olive oil. It should semi-emulsify; don't worry if it doesn't. (For some reason, I used my cuisinart).
2.  In a small bowl, combine the onion and thyme leaves with a large pinch of salt, then rub the salt into the onions using your hands. Let sit for 10 minutes.
3. Put the kale in a large bowl.  Add the onion and thyme. Pour in half the dressing and using your hands, mix the greens — really get in there and work the salad;
You should almost knead the greens so they break down a bit and the dressing fully coats the leaves. Taste and add more salt, lemon juice, or dressing, as needed. Let the salad sit for 15-20 minutes. Taste and adjust once more. Then spread on a platter and serve.
NOTE: I decided to add a hard boiled egg for added protein and I also decided to add a touch of balsamic vinegar to the dressing
FINAL PRODUCT …(err,,,,my uber healthy lunch)