The Canadian Health Food Association held their annual trade expo last week, and naturally I took the opportunity to visit the show. I walked thru the show for several hours, gazing at new products, sampling, and talking to exhibitors !! (not in that order).
At the end of the show, I made an observation that I kept seeing "COCONUT' in a lot of new products. Here's a few products that were introduced at the show that involved the application of coconut.
a) Blue Diamond Almond Milk that is blended with Coconut Milk. Not only is it lactose free and soy free but its ONLY 45 calories. Love it.
Ive been a fan of their plain and chocolate version Almond Milk for years and I'm sure I will be buying this flavor as well.
b) Madhava Organic Coconut Sugar. This is an unrefined sweetener produced from the flower buds of the coconut tree (kinda kewl if you ask me) and is an alternative to processed sugar and artificial sweeteners.
c) Earth Balance introduced an organic coconut spread. At first I was a bit apprehensive, but after tasting a sample of the coconut spread on a piece of bread, I decided that it was a neat idea. I can really see how this product would introduce some flavor when cooking with it. i.e rice, stir fry vegetables etc.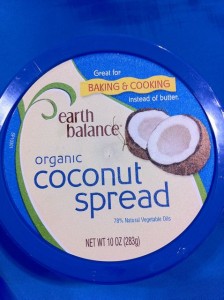 d) This product at the Neal Brothers Booth also caught my eye… Organic Coconut and Cherry Quinoa Granola from Lotus Fine Foods. It's 100 % Gluten free and low in sodium too. The ingredient list was impressive: quinoa flakes, sesame seeds, sunflower seeds, flax seeds, agave nectar, sunflower oil, apple juice sweetened, cherries and coconut. Not to mention this product is local. Yay Local!!
The CHFA was a great way to kick off all sorts food adventures. I went to the Delicious Food today but will be  also be attending a Food Show featuring foods from Quebec on Monday  and on Tuesday I'm attending Grocery Showcase.  Have I mentioned before – that I love food shows!!