On Thursday night, I went to the Toronto Poutine Fest that was put together by the good people at Joylister. It was held at the Beer Academy and your $35 ticket enabled you to eat as much poutine as you want  (from 5 different poutine craftsmen) and drink a few beers as well.  JUST MY TYPE OF EVENT.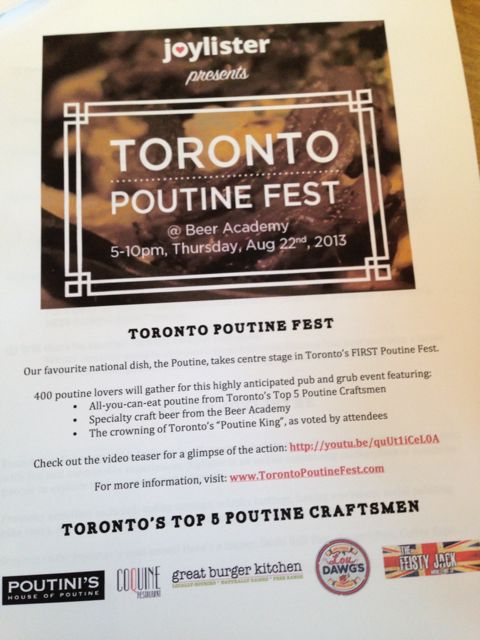 About 400 guests felt the same way, as tickets sold out in about a minute and a half.  I'm sure next year this will event will be at a bigger venue so more poutine fans can attend!!
Sadly my stomach didn't allow me to eat poutine from all five vendors. I should have just "sampled" a few bites but my willpower was non existent that night. ARGGGHHH. I also blame it on the fact that the poutine was JUST too good. Yup – excuses, excuses, and more excuses.
Here's what I sampled:
Duck Confit Poutine: Yukon Gold frites topped with dem-glace, smoked provolone, brie and Quebec duck confit cured for two days and slow for 5 hours until tender. Verdict: My personal favorite that night.
Buter Chicken Poutine: Hand cut Yukon Gold fries topped with slowly poached chicken and sauteed onions, garlic, curry powder, tomato paste, heavy cream and deglazed with white wine.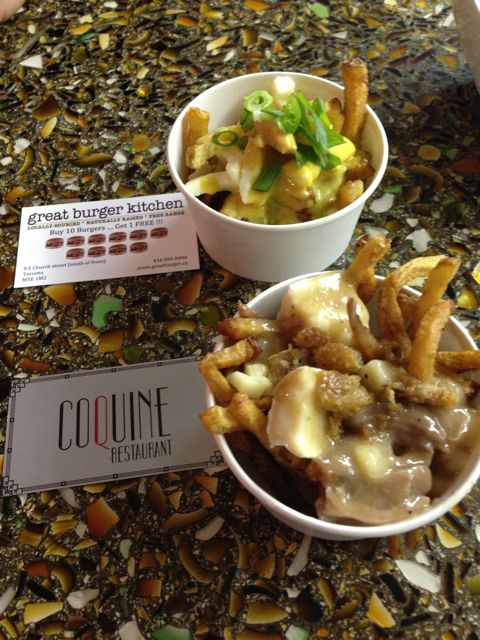 The Mighty Loutine (Pulled Pork Poutine): Hand Cut Yukon Gold potato fries topped with homemade smoked chicken gravy, fresh cheese curds, and 12 hour, slow smoked pulled pork.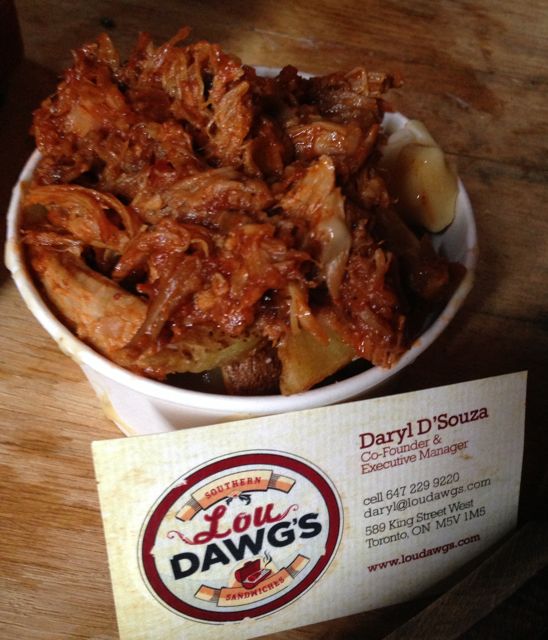 Here's what I didn't sample: (again, blame my stomach)
Poutini's (which has been my go-to Poutine choice, since they opened) and The Feisty Jack Mobile Food Co. My apologies.
Participants had a chance to vote on the best poutine and today I received an update that Coquine Restaurant won. Congratulations. I totally agree with this choice. There was something about the duck gravy that really elevated their poutine from "norma"l to "extra-ordinary"
As for the event itself: Fantastic. I was super impressed with the layout of the room, the venue, the volunteers, and of course…the POUTINE.
Please take a minute to check out Joylister, which is a Toronto based start up that aims to enrich people's lives with fun and memorable experiences. Joylister is an online community marketplace of events for people to explore their passions and interests. I've signed up to get their updates and you should too!!
For more information about Joylister:
Twitter: @Joylister
Facebook: www.facebook.com/joylisterfun