This year, Winterlicious is taking place Jan 31st to Feb 13th, 2014. I've been a long time fan of this program as it's a great way to check out new restaurants for a reasonable amount of money.   There's three-course prix fixe lunch menus for $15 or $20 and $25, and dinner is priced at $25, $35 and $45. Perfect prices for someone who is on a budget. (Like. Me.)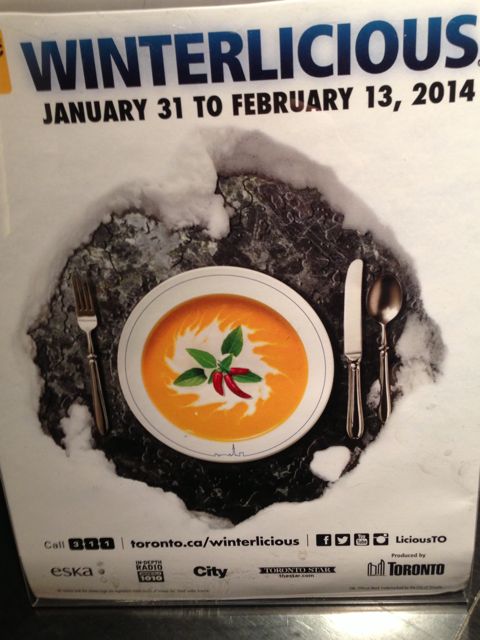 Lucky me….I was invited by Pangaea to attend their Winterlicous Dinner and by the Hyatt on King  (King Street Social) to attend their Winterlicious Lunch Menu. I've never been to either restaurant so I was excited for both meals.
Here's a recap:
Pangaea Winterlicious Dinner 2014: …$35
The minute you enter the doors, you are warmly greeted and your coats are taken into a nearby closet. Then you notice the high ceilings and the beautiful art. I was already impressed before I even ate anything. Our lovely waitress was uber professional and the menu choices I selected were well executed. It was truly a perfect meal – loved the service, the ambience and the food.
Top Left :Foie Gras Torchon, Grape Confit with Toasted Brioche.
Bottom Left Pork Tenderloin (brined and grilled), Chickpea ragout with spinach, honeyed sweet potato
Top Right: Hot Apple Cider
Bottom Right: Toasted Cinnamon Creme Brûlée, Poached Pear, GingerSnap Biscotti.

Please click here for the entire Winterlicious lunch and dinner Menu for 2014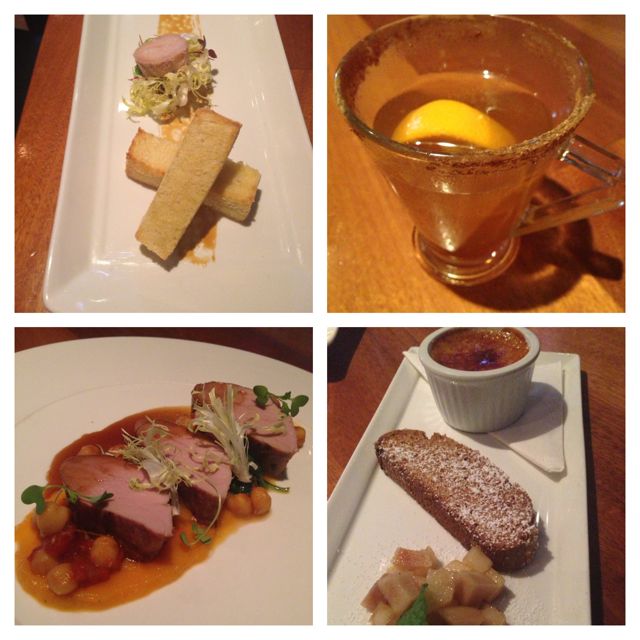 Hyatt on King – King St. Social – Winterlicious Lunch 2014 …..$20
The entire team at Hyatt on King did an amazing job and reached out to a group of food bloggers to sample their Winterlicious Lunch Menu. Sadly I had an appointment that day that I could not miss and was going to decline. But then I noticed that lobster poutine was on the menu…and I knew I had to attend, even if I had to dash out. In the short period of time that I was there, this is what I sampled.
Top Left: Winter Greens (vegan)
Baby arugula and leafy greens, roasted pears, grape tomatoes, slivered almond with an Orange Chili vinaigrette
Top Right: Lobster Poutine
Butter poached British Columbia lobster served with our signature gravy, angel hair parmesan and frites.
Bottom Left: Roasted Red Bell Pepper and Tomato Bisque Truffle Crème and a Sweet Potato Soup (vegan)
Bottom Right: Grilled Black Tiger Prawns
bell peppers, grape tomatoes, red onions, micro green salad with a soy ginger reduction
Please click here for the entire menu for King Street Socials' Winterlicious Lunch and Summer Menu for 2014.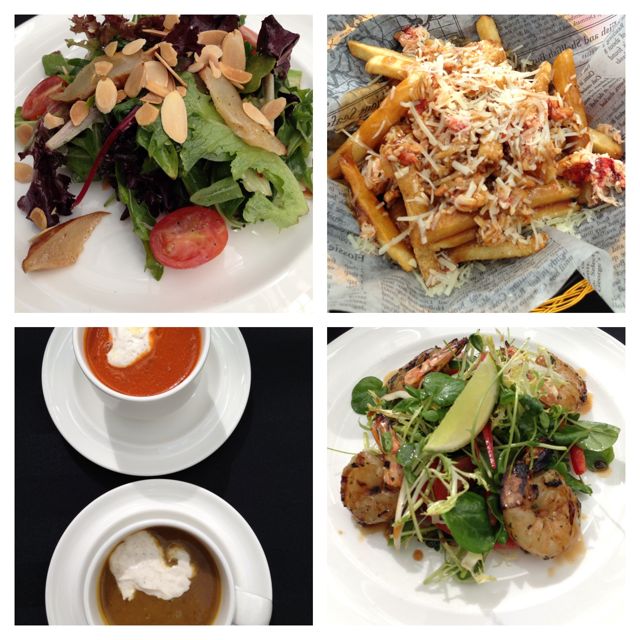 I really hope you get a chance to check out Winterlicious. There's still time left!!
For more information:
Pangaea  1221 Bay St. Toronto 416 920 2323
Twitter: @Pangaea
King Street Social – Hyatt Regency  on King 370 King St. West, Toronto, 416 595 2524
Twitter: @hyattonking