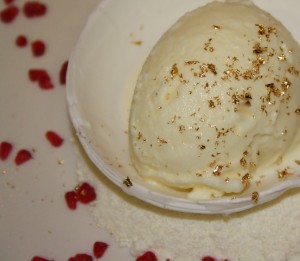 You might be shaking your head (sideways), saying "molecular WHAT"? but when I received an invitation to attend a molecular gastronomy demonstration – I shook my head up and down to indicate YES.
I'm not sure when I was first introduced to molecular gastronomy but I'm pretty sure it was at Charlie Trotters' restaurant in Chicago many years ago. Or perhaps it was at Joel Robuchons' restaurant in Las Vegas. All I know is that I think it's spectacular!
So what is it? Its a method of cooking that I WILL NEVER master. LOL.
However there are some great chefs out there who do an awesome job…including John Placko who is teaching a series of hands-on molecular gastronomy workshops at Humber College.
I was tweeting about the demonstration throughout the evening and received some tweets back that said "I would kill for that machine". (special machines and ingredients are often used in molecular gastronomy – so I found out). The tweet was in reference to a $4,000 pacojet!
The evening demonstrated a few special techniques including: spherification, reverse spherification, emulsification and more. It was a 3 hour demonstration and I loved every minute.
The photo at the beginning of the blog post is one of the many items that were demonstrated that evening. It's cereal milk ice cream (made in a pacojet) in a frozen bowl made of coconut milk with raspberry niblets (with the help of liquid nitrogen) on a bed of white chocolate powder, topped with gold flakes. IMPRESSIVE.
There's a series of workshops taking place each Saturday from March to June at Humber College. For further information,visit the Humber College website or call 416-675-5005.