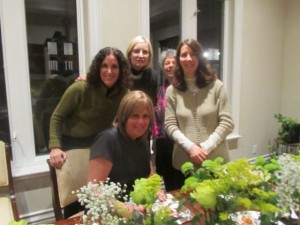 After I read "Repairing Rainbows" by Lynda Fishman, I immediately called up my book club leader and highly recommended it. To my suprise, she was in the middle of reading it!! I offered to host the book club if the book was selected and I also mentioned that I had met Lynda and knew that she would be happy to attend the book club meeting.
A few emails later –  it was arranged. The book was selected…Lynda was going to attend…and I was delighted to host the book club meeting.
Lets talk about the book: I will begin by telling you that it's one of those books that you can't put down. I started it on a Friday around 2 p.m. and finished it Saturday at 4 pm.
Repairing Rainbows is a memoir about a remarkable woman who has a painful story to share. It's not an easy story to read but I couldn't stop turning the pages. I wanted to know what happend "next" in Lynda's life. The book also inspired me.  Even though it's sad…it's also about hope, about choices and about moving forward. I read the book with the same intensity that I read "The Glass Castle" by Jeannette Walls. Lynda actually told me that many people have mentioned this to her.
Now let's talk about the book club: 40 woman showed up on a snowy Saturday afternoon. As always our book club is about food (and the book). I didn't even serve wine. (Is there something wrong with us?..ha). Lynda was introduced and people were invited to ask questions. Hands went up in the air immediately.
After the questions, everyone was invited to eat and more socializing took place.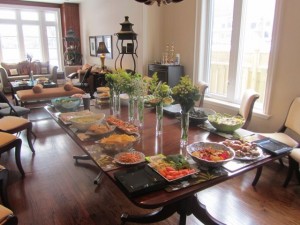 I recieved lots of comments about the provencal wheatberry salad. I know you want the recipe..so here it is.
The recipe is courtesy of  OuiChef. It's simple and yummy. Not to mention "healthy".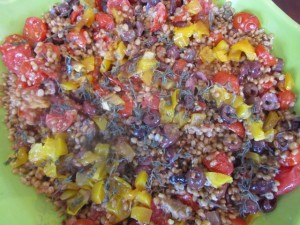 It was indeed a successful book club and I was honored to host it. I hope you get a chance to check out the website "Repairing Rainbows" and to read the book as well. You can buy the book at Indigo or online at Amazon. I hope you enjoy this memoir as much as I did.
Happy Reading