SO much is going on in April, that I don't know where to start!! I guess at the beginning…LOL. Here's a few April events that are on my radar and of course I wanted to share them with you.
1. The Good Food Festival – April 5th to April 7th at the Direct Energy Centre, Exhibition Place. I've always loved this show and infact I use to sell booth space for this show- that's how much I loved it. Grab some cash (to take advantage of the "Show Specials"), put on your flat shoes and take advantage of the many samples and live cooking demonstrations.
2. The Cookbook Store  (850 Yonge St) is celebrating 30 years in business with an Anniversary Open House on Saturday, April 6th from 11am to 4 pm. This is truly one unique store. (that also happens to have a great newsletter too).
2. The Green Living Show – April 12-14th at the Direct Energy Centre, Exhibition Place. I've only gone for the last two years but it's a show I won't miss. You will find me most likely hanging around the "Farm Fresh Share" or the Farmers Market!!
  Please note: the Green Living Show, proud sponsor Samsung Canada, and RBC challenge GTA residents to round up old and unwanted electronic waste (e-waste) gathering dust and bring them in for recycling. For each piece of e-waste recycled at the Green Living Show, or at six participating RBC branches, participants will receive a free ticket ($16 value) to the Green Living Show (April 12-14). The Passion for E-Recycling School Challenge offers up $20,000 in Samsung Hope for Children Smart School grants to GTA schools that collect the most e-waste.
3. The Toronto Jewish Film Festival – April 11 -21. I went last year for my first time (can you believe?) and saw four films. I plan on seeing at least that many this year!! I've already started to "study" the guide but it's taking longer than I would like to actually make decisions. So many choices…so little time.  Tickets on sale now! 416-324-2121.
4. Slurpfest – April 2oth. I didn't make it to the first Slurpfest but maybe I will make it to round #2!! Clearly it was a successful event.
What:  SLURP Noodlefest v2
Where:  Glass Factory, 99 Sudbury (Map)
When:  Saturday April 20th, 12 pm – 4 pm
Tickets are $10 and are now available online at http://bit.ly/XXzmVe.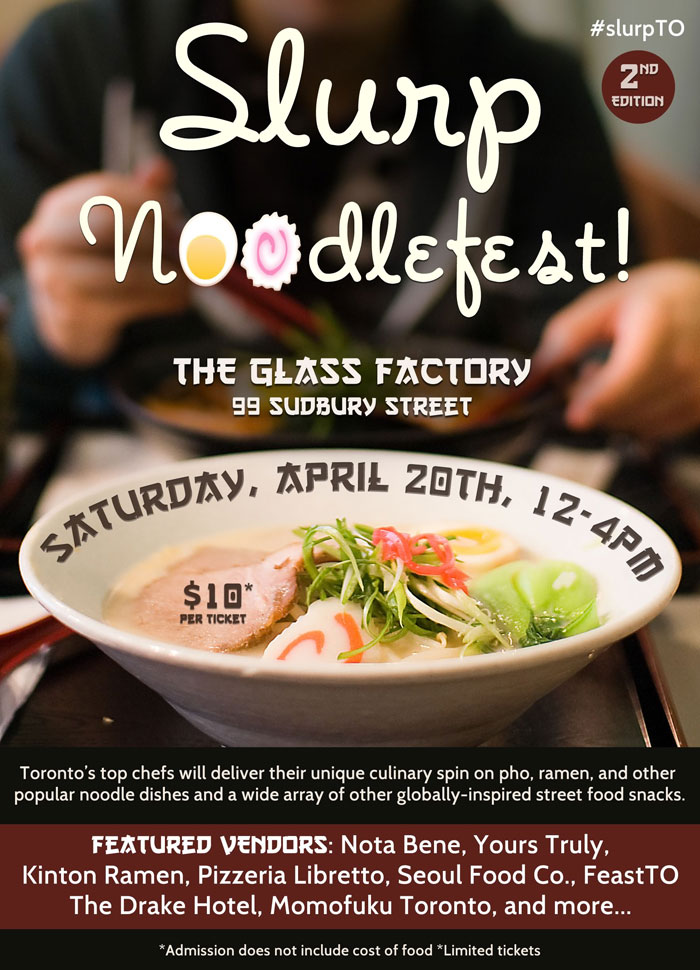 5. The Ontario Brewing Awards Ceremony . I've never gone before but April 30th is marked down in my calendar!! This event is open to brewers, consumers and the media.
This year random brewers will have their product paired with food at stations throughout the event space for consumers and media to sample during the event. (YUM).
The event will take place on Tuesday,  April 30 from 5-8pm at The Gladstone Hotel 1214 Queen Street West  Toronto, ON
Book your tickets early at https://secure1.gettickets.ca/Redeem/Regular/Default.aspx?id=93fac481-c9c5-4d4e-b701-05788fd0d2b5&locale=en-CA
Pretty good month – don't you think?