I recently discovered a website called "Stay at Blue Mountain". To sum it up , they rent out chalets that are equipped with luxury appointments and are perfect to accommodate families, large groups, team building retreats or executive getaways.
The chalets are within walking, or skiing distance, of the Blue Mountains activity area. Not to mention, that these large chalets sleep between 16 and 20 guests and are equipped with EVERYTHING YOU need. From indoor and outdoor swimming pools, hot tubs, fireplaces, barbecues, air conditioning, saunas and WIFI…they have a chalet to suit your needs.
It was a tough choice but we selected the SUMMIT RIDGE chalet which offered 8 bedrooms, 2 "common areas" with flat screen TV's, 4 bathrooms, a fully equipped kitchen and an outdoor hot tub (the selling feature for me).
Naturally I spent some time in the outdoor hot tub. What a treat. I can seriously see my family having a reunion at this chalet. (are you reading this, my dear cousins?)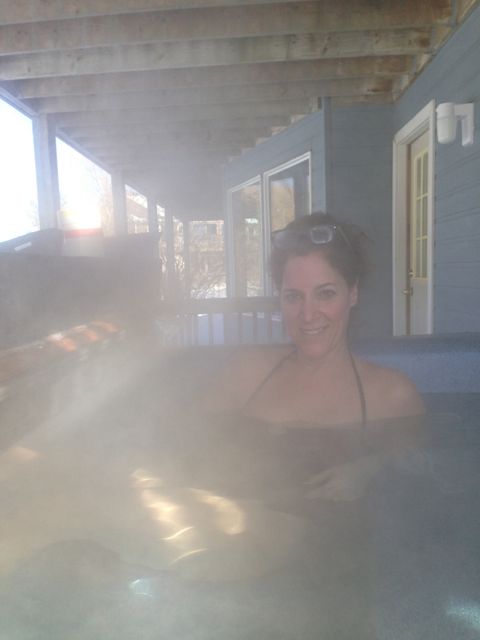 When we weren't hanging out at the chalet, we were walking around the Blue Mountain Village. Sadly we didn't skate, ski, snowshoe or x cross ski – this trip was about relaxing and eating. (not a bad combo, in my humble opinion.
The only activity we did do was EAT and oh boy – did we ever eat. I did some research (thank you Google) and found THE SMOKE. Oh how I love doing research to find the "right" restaurant. I really did score. We loved the space, which had super high ceilings and had a contemporary feel to it AND we loved the food too. The owner, Cam Dyment, took the time to chat with us and his passion for food was clearly evident.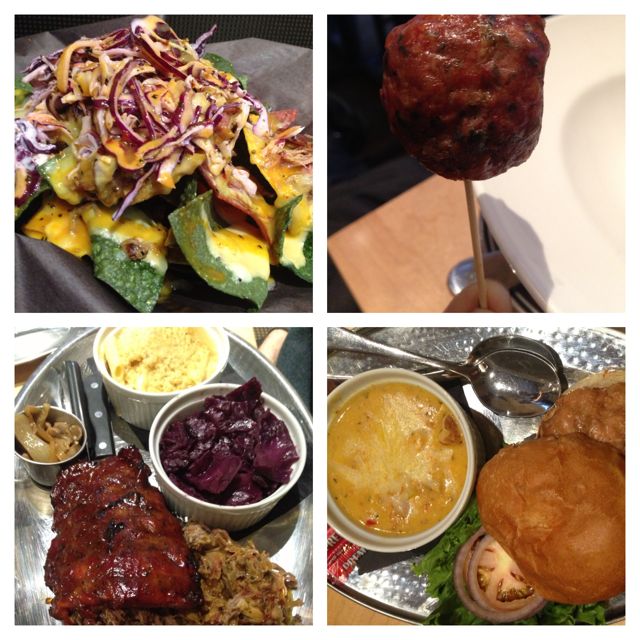 We inhaled the pulled pork nachos and really thought that this dish stood out. There was something so unique about it. We also enjoyed Smoked Trout,  Smoked  Balls of Meat, The Meatery Platter and the Smoked Turkey Burger too! (which was described as "Thanksgiving in your mouth). Don't forget to save room for the Smoked Banana Ice Cream!! (will you promise me, that you will try this? Pretty Please).
I posted on my facebook page that I had dinner at The Smoke and was delighted to see that many of my friends are also huge fans of this restaurant!!
We also had lunch at Oliver & Bonacini Cafe and Grill. We wanted something light (seeing as we were still full from dinner) so we selected the soup and salad combo. I was super impressed to see that they are using local suppliers and that the salad used honey from Osler Bluffs in the dressing.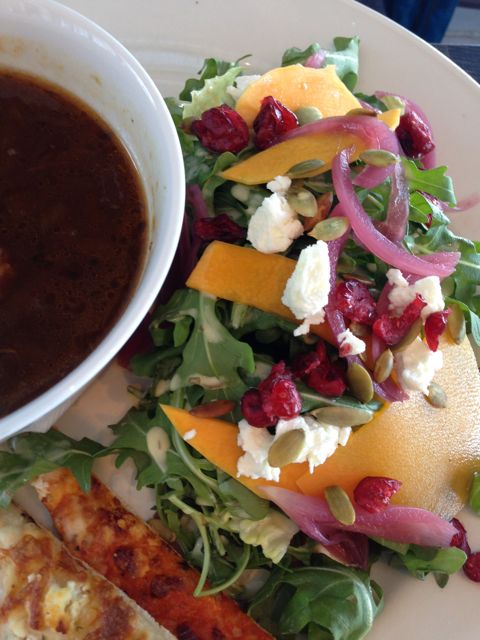 To balance the "light" lunch, we also had a half order of Maple Bacon Poutine. (oh how I love half orders). I ate way more than I should have as it was so so tasty.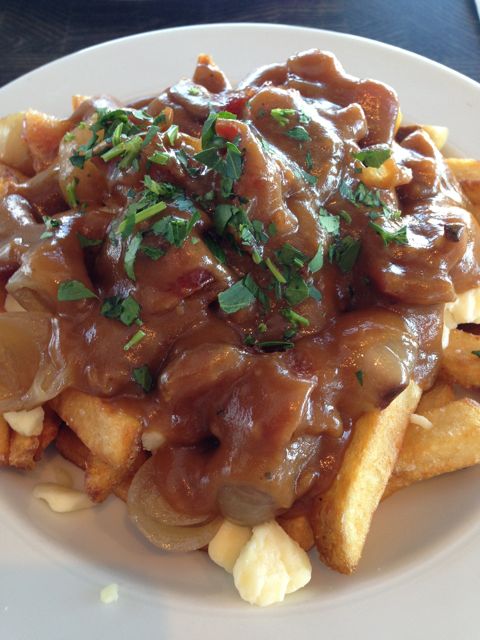 Disclosure: the accommodations and the meals were graciously comped, however all opinions are my own.
For more information:
Stay at Blue Mountain – click here for their website – 1 855 215 0505
Smoke Restaurant , 498 1 St. Collingwood, ON 705 293 5522
Oliver & Bonacini Cafe and Grill, Blue Mountain, 220 Gord Canning Dr, Westin Trillium House, 705 444 8680