My weekend in Ottawa consisted of the following elements: seeing family, eating great food, and  Winterlude! I couldn't have picked a better weekend to visit. Seriously.
On Friday night – we checked out Confederation Square to see the ice sculptures. It was so impressive and so so pretty.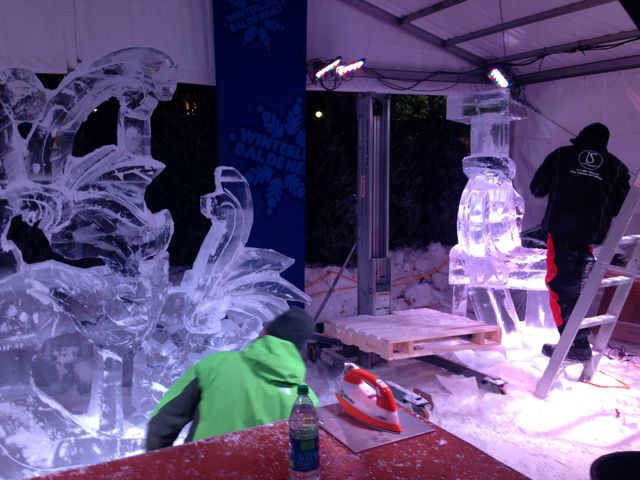 Here's a breakdown of our day on Saturday:
10:00 am.  We went directly to Art Is In Bakery to eat a Cronut and their potato buttermilk donut with a maple glaze and maple bacon crumbs. There's only one word to describe both of these items: WOW. I would not have discovered this treat had I not been following @AMWATERS on Twitter as I read a tweet that she had enjoyed  a Cronut the other day. (well, her 25 gram portion of the cronut!!)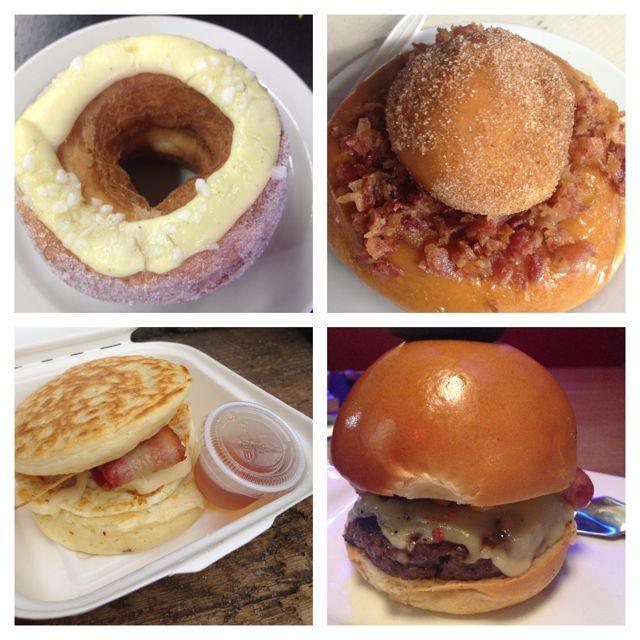 12:00 pm We went to Flapjack's  Pancake Shack which is located right behind Mrs. Tiggy Winkle's in the Glebe. We ordered the JimBerrr! Watson – Double Smoked Bacon, Gouda & Egg between two original buttermilk pancakes. There is clearly a reason why Ottawa has embraced this new food truck!!
5:30 pm. For dinner, we checked out Prime Burger Bar. We inhaled our deep fried calamari, steak poutine and the Chipolte Burger  (double jack cheese, double smoked bacon, avocado and chipotle mayo). Not to mention we ended our meal with DEEP FRIED OREOS.  This restaurant opened in October and as always I discovered them on twitter. The owner took the time to chat with us and in that short chat, we could tell how he really does care about every aspect of his restaurant. I later asked my cousins if they had been to this restaurant and they also had a a great story to share about the owners amazing customer service!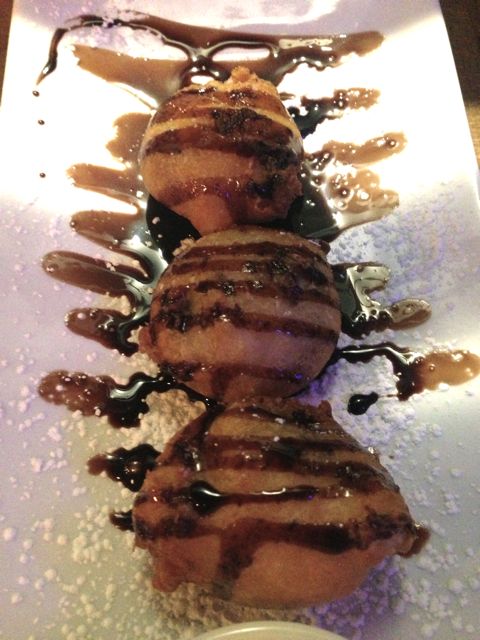 Our day on Sunday continued with more yumminess!!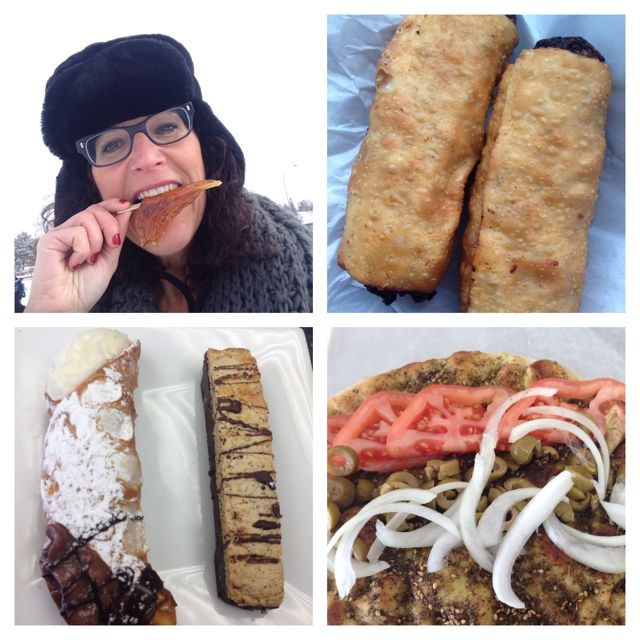 10:00 am – Black Pepper Biscotti and a Nutella Cannoli from Simply Biscotti.  Note: We were celebrating World Nutella Day early!! (it's officially on Feb 5th)
11;00 am – Maple Syrup Taffy on a stick – which I enjoyed while skating on the Rideau Canal. Oh how I love this childhood treat and of course skating on the canal was a treat too!
12:00 pm – A veggie Zatar from Aladdin Bakery
1:00 pm – Eggrolls from Golden Palace.
As always, Ottawa is an amazing place to visit. I can't wait to visit again in March!! In the meantime, I'm heading to Goodlife Fitness to hit the treadmill and burn off a few calorie..
For more information:
Winterlude – Jan 31 to Feb. 17, 2014
Art Is In Bakery 250 City Centre (613) 695 1226
Flapjack's Pancakes Shack, 809 Bank St, (613) 355 2927
Prime Burger 780 Baseline Road, (613) 680 2051
Simply Biscotti 354 Preston St. (613) 234 5336
Aladdin Bakery 1801 Carling Ave. (613) 728 5331
Golden Palace 2195 Carling Ave. (613) 820 8444