I've just returned from Ottawa and while I was visiting, I couldn't stop taking photos of SNOW. It was truly beautiful and I found myself staring at trees, and bushes, and roofs!! Usually I'm taking photos of food, but on this trip I was also taking photos of SNOW. Funny, don't you think?
When I returned to Toronto I decided to make something that reminded me of all that beautiful snow. After searching thru the
Silk
website, I found a recipe called "The Orange Snowball". How could I resist? It gave me the opportunity to buy
Angostura bitters
and
fresh orange juice! (the Silk soya beverage was already in my fridge seeing as I'm lactose intolerant).
This is what you need: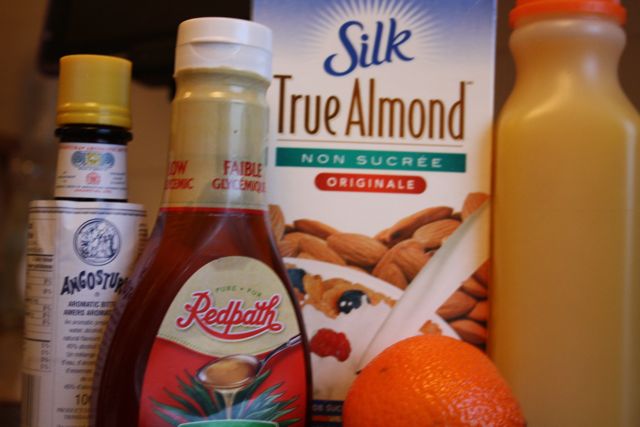 3 oz Silk Original soy, almond or coconutmilk
1 oz freshly squeezed orange juice
1 tsp agave (I used Redpath Organic Agave Nectar…which is  a new product, by the way)
2 dashes Angostura bitters*
Candied orange peel for garnish (I used fresh orange zest)
*Adds a trivial amount of alcohol
1.Place all ingredients except garnish in a cocktail shaker.

2.Add 1 cup of ice and shake well.

3.Strain into a chilled cocktail glass and garnish with candied orange peel.

For a spirited drink, add 1 oz orange liqueur such as Grand Marnier.
Final Product:
p.s I know that I will making more recipes with Silk, Redpath Agave Nectar  and Angostura Bitters (which has a totally cool history, by the way) – all three products are super diverse!! Please take a minute to click on their websites and you will see what I mean.