Over the last two years, I've been going to the Drake Hotel on a Monday night for an event called #86D. These amazing FREE events are  hosted by the lovely Ivy Knight and generally attract a foodie-type of crowd.
This past week I went to a Cinnamon Roll Battle that featured a total of 700 cinnamon rolls that were prepared by a handful of Toronto's best pastry chefs. I SHARED (thats right – one roll shared by 4 friends) cinnamon rolls by Tori's BakeShop, Richmond Station, Gilead Cafe, The Gabardine, Eyal Lieberman, and more. PS. Richmond Stations' cinnamon rolls won last night!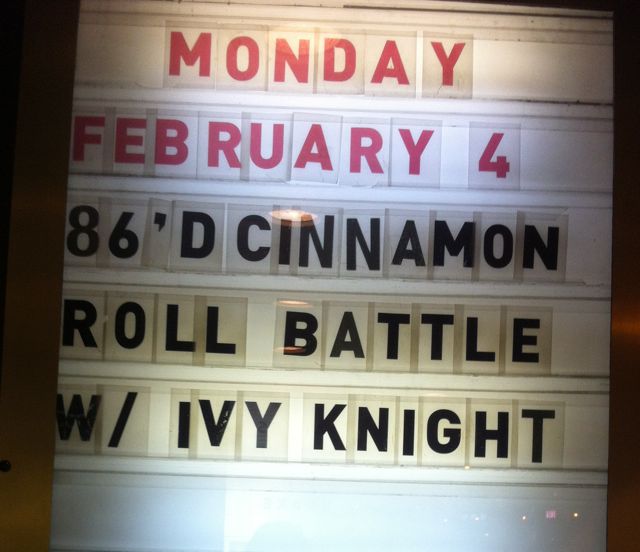 I enjoyed the cinnamon rolls (see below) as well as catching up with some fellow foodie friends.
I've also attended other events, like the donut smack down, a pickle smack down and more. They are always FUN and there's always TASTY food to enjoy!!
Here's what's going on in February:
Crunchy or chewy? Bonnie Select or Heartland? Toasted or untoasted? Boston or Romaine? Kewpie or Hellmanns? Which combination makes the best BLT; join us tonight to find out! Sponsored by This Little Pig artisinal bacon purveyors.
Venue: Lounge
Type: Foodie
Cover: FREE
Time: Feb. 11, 2013, 8 p.m.
Tonight we celebrate a classic w/a night of milk + cookies, but with a twist! Bring the family and re-live your youth w/a grown-up spin; Boozy, milky cocktails served in cookie-rimmed glasses by guest bartender Krysta Oben from Cowbell.
Venue: Lounge
Type: Foodie
Cover: FREE
Time: Feb. 18, 2013, 8 p.m.
The Order of Good Cheer – Enjoy the classic French 75 with guest bartenders, Krysta Oben from Cowbell and Leah Wildman + Lauren Wilton from SNACKS.
Venue: Lounge
Type: Foodie
Cover: FREE
Time: Feb. 27, 2012, 8 p.m.
Hope to see you on a Monday night at the Drake Hotel!
For more info:
The Drake Hotel: 1150 Queen St. West, Toronto (416) 531 5042