Last year I went to this event for my first time and was totally impressed for many reasons.(Click here for last year's blog post).
This year, The Stop's Night Market takes place on June 17 and 18, 2014 from 7 pm to 11 pm.  I'm writing you to encourage you to buy your tickets quickly (as in now) as they go on sale today (May 1st). Seriously – this will be a sold out event.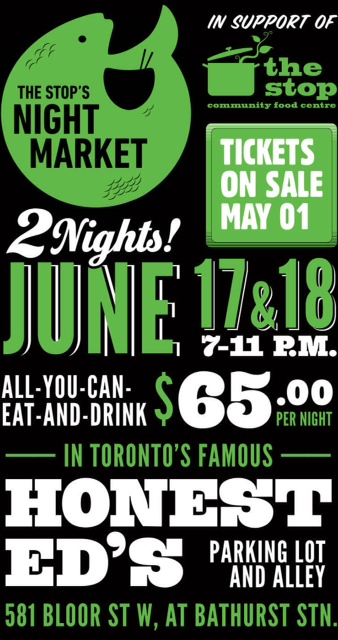 Why should you attend?
-you are going to taste some spectacular food plus it's all-you-can-eat. No tickets required!!
-you are going to be able to enjoy alcoholic beverages too! (think: beer, wine, and more)
-each vendor has a unique space which makes for a visually appealing experience. (no 6 ft tables draped in white linen…not even close)
-you are going to support an amazing cause.
-the location is perfectly accessible.
I should mention that there are different food/drink vendors each night – kind of cool!.
Note: I met one woman last year who bought tickets for both nights. #smart #move.
Hope to see you there!
For more information:
Twitter: @theStopCFC
Facebook: www.facebook.com/thestopnightmarket/
Website: The Stop Community Food Centre