It's winter (well kind of)  and generally that means that I like to curl up in a movie theatre and watch movies. You certainly won't find me watching movies in the summer, unless it's raining outside. Now, I'm not a movie critic but I wanted to share with you some of the movies I have seen over the last few months.
Here's a list of 8 Movies and 8 Reviews:
1. War Horse: I wanted to see this Steven Speilberg movie only because Steven Speilberg directed it….not because of the story or the horses!! I'm glad I saw it as it really did capture my attention. It was a perfect Sunday afternoon escape.
2. The Artist: I saw this movie, immediately after reviewing all the rave reviews. It was indeed a "different" type of movie and well acted.  Would I rave about it? No.. but I wasn't sorry that I saw it.
3. The Descendants: Watching George Clooney for an hour and 50 minutes – is never a bad thing. Oops Im suppose to be reviewing the movie and not rating how gorgeous the actors are!! I can't say I loved this film as much as everyone else did.
4. The Iron Lady: If Meryll Street doesn't win best actress for her role in Iron Lady..I will scream. She is just brilliant in this role. As for the movie – I found it totally entertaining and loved it.
5. Mission Impossible: I like Tom Cruise and I like action movies, therefore I liked this movie. It's not  a brilliant movie but it's exactly the type of movie I enjoy.
6. Tinker Tailor Solidier Spy:  I cant review this movie as I didn't understand any of it even though I was awake for the entire film. Please don't judge me.!!
7. Hugo: Again this movie was getting great reviews so I felt I had to see it. Guess what? I had the BEST nap during this movie. I really should see it again.
8. The Girl with the Dragon Tatoo:  I liked the book and I liked the movie. This movie certainly captured my attention.
Movies still on my list: My Week with Marilyn. I hear the acting is outstanding and want to be able to compare it to Meryll Streep in The Iron Lady.
Thankfully, companies like General Mills understands movie-lovers, so they partnered with Cineplex Odeon to make it easier for people like me to continue to head to the cinema!! Click here to read more about this fabulous offer:
https://lifemadedelicious.ca/Home/OffersandPerks/Cineplex.aspx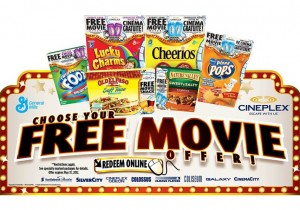 What movies have you seen? What movies are on your list to see? As always – would love to hear from you.
One more thing: Check out this awesome website  Bind Movie Critic. I stumbled upon Tommy Edisons' website on twitter and I am really enjoying his reviews.
Disclosure: I am part of the Life Made Delicious Blogger program and I receive special perks as part of my affiliation with this group. The opinions on this blog are my own."