I was introduced to Flirt Custom Lash Studio via twitter last week. I'm sure you are tired of me endlessly telling you how many great people I  meet on twitter – but it's TRUE.
She tweeted that Flirt Custom Lash Studio was offering Eyelash Extensions to women who lived in the GTA on Sunday Jan 22nd. I replied back within seconds. Before I knew it, I was booked for a 4 p.m appointment. She has asked me to review their website for "pre appointment" instructions and of course I peeked around the website, seeing as I had no previous experience with eyelash extensions.
What's ironic – is that two weeks ago at a dinner party, one of the guests mentioned how she had eyelash extensions before her wedding and even showed me the photos. I was super impressed so I knew that this was something I wanted to try.
Here's my experience: I arrived promptly at 4 p.m at Blush Pretty Studio (313 Queen West..2nd floor). I took off my contact lenses and Sommer (the owner of Flirt Custom Lash Studio)  proceeded to do her magic with my eyelashes.
I was so relaxed that I could have fallen asleep but I was too busy talking to Sommer about twitter, social media, Xtreme Lashes, and more. The 45 minutes seemed to zip by.
Here is a great photo of Sommer doing her magic.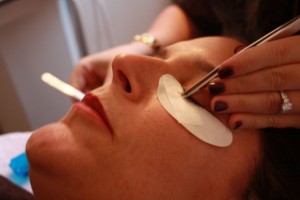 Sommer was extremely professional (ps she is Xtreme Lashes certified) and asked me if I was OK – if I had any questions – if I had any expectations – etc. Before I knew it ..I looked like this.
I honestly can't believe how awesome this product is. I honestly don't know why I havent done this before either.
All I know, is that I can't stop staring in the mirror.
Oh yeah – I came home with a "after care packet"..so that I keep my eyelash extensions looking their best for as long as possible. (which I plan on doing, by the way)
Thanks to Flirt Custom Lash Studio for my beautiful eyelash extensions!!
For further info about Flirt Custom Lash Studio, please visit their website or call Sommer at 647 402 8894.