I have passed Chipotle Mexican Grill at Yonge/Eglinton NUMEROUS times but never went in. However this week – that changed. I finally went in and had lunch there.
Seeing as I had never been there before, I noticed that there's more than just burritos or tacos!!  You can select a salad or a bowl as well.
I wanted to try something different, so I chose the bowl. Then it was explained to me, that my bowl would contain cilantro lime rice with the following options: pinto or black beans, three different types of salsa, sour cream, cheese and avocado. I chose EVERYTHING. (why not?). Then I realized what I did – and took 4 lactose pills!!
I managed to inhale my meal while observing how clean the restaurant was!! Then I did some more research and found out that Chipotle Mexican Grill is a franchise with numerous locations throughout the U.S., U.K and Canada. Toronto actually has the only two locations in Canada. (fun fact – don't you think).
I also learned that Chipotle Mexican Grill really cares. Their websites says "Not just a burrito, its a foil wrapped, hand crafted, local farm supporting, food culture changing cylinder of deliciousness.
How can you not like a restaurant that has: great customer service, fresh food, a commitment to supporting local farmers, and serves food with integrity?
When they mean fresh – they mean fresh: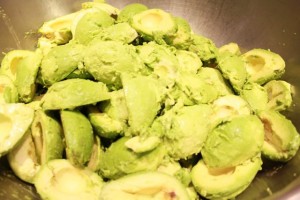 Plus the staff are super friendly and even took the time to take a photo with me!
I now know where to go when I'm looking for a healthy meal..right down the street to Yonge/Eglinton
Hope you get a chance soon to visit either location one day soon:
2323 Yonge Street  (Yonge/Eglinton) 416-489-8601
or 323 Yonge St. (Yonge/Dundas) 416-596-8600
Cross your fingers that you see more locations in Canada in the near future!!