A friend wrote me an email that said "why arent you blogging about food" I wrote back "you know me well!!".
To be honest, I was saving the best for last.
Sadly my mom and I were sick for 3 days with bad colds so we didn't venture out for 3 evenings but we made up for lost meals!! Here's a few highlights.
Cimboco…A Caribbean Cafe.
We loved the airy caribbean decor and once we saw the menu we knew that we hit a winner of a restaurant.
I had the plantain wrapped callaloo – local callaloo seasoned with caribbean flavors, wrapped in ripe golden fried plantains and accompanied with a spicy cayman style sauce.
My taste buds (and tummy) also enjoyed the caribbean roti. – an island style sandwich on their fire roasted flat bread filled with traditional caribbean curried vegetables.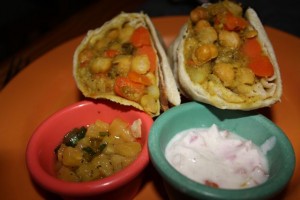 The Sunshine Grill
Another casual caribbean style restaurant known for the best fish tacos on the island. Guess what we ordered? (did you guess?) There was a 30 minute wait for a seat but it was SO worth it.
I had the coconut snapper tacos- snapper in a mild curry/coconut sauce with green onions and cilantro.
Michaels Genuine Food and Drink
This restaurant has a location in Miami (for those who like to go to Florida in the winter) and he opened up a restaurant in Cayman not long ago. We loved this restaurant. The atmosphere was hip, and the service was perfect but it was the food that had us oo-w-ing and aawing. (is that the correct spelling)?
We had lots of little dishes to fully experience the menu.  Our fav. dish was probably the crispy hominy. OH YUM.
Roasted Breadfruit salad with heirloom tomatoes, avocado, shaved red onion in a lemon meyer vinagrette.
B
Homemade organic ricotta with jam on crostini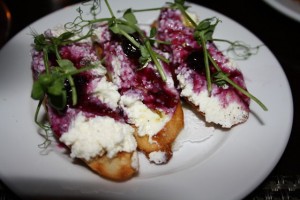 Sauteed local thai eggplants with raisins and almonds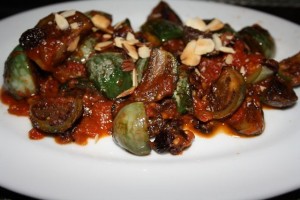 Each meal was fantastic. I was thrilled that we were able to enjoy some local flavors and can't wait to return next year to enjoy these three restaurants again.