Not only do I collect china but I collect postcards too.  I'm guessing that this collection started when my mom became a travel agent back in the early 1970's and went on a lot of trips. (I think those days are long gone for travel agents). Plus my best friend in grade school and high school, travelled 4 times a year with her family. That's a lot of postcards just from her (and I'm ever so grateful).  So between my mom and my best friend – I started to collect postcards.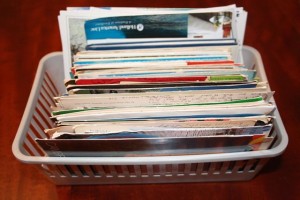 Naturally my grandparents sent me some postcards too as did a few other friends who knew about my postcard collection.
Here's one of my favorite postcards. There is a line in this postcard that says "I thought you would like to take it to SHOW AND TELL NEXT WEDNESDAY"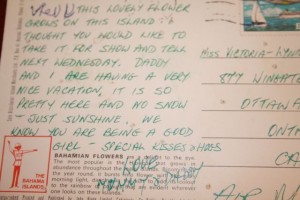 Isn't that hysterical!! Disclosure:  Im 47 years old…which means that I've kept this postcard for a long long time! (by the way – I am NOT  A HOARDER)
I also love this postcard that just has exclamation marks. Clearly my friend was bored of writing me postcards about the same thing i.e The weather is great, you would like it here, blah blah blah.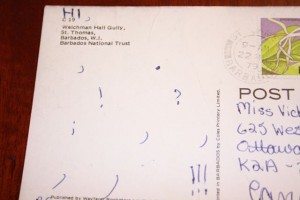 Every once in a while I pull out this basket of postcards and will look at the stamps, the varieties of countries, the photos, and the dates. I wish I could frame these postcards but its hard to do coz I like to look at both sides of the postcard!!
Now that everyone is always sending emails and texts – I still ask friends/family to send postcards. There is something special about these little cards that I enjoy. Can't put my finger on it – but I like collecting them.
What do you collect? I know from the comments on my previous post – that many of you collect china too!! But what else do you collect? My friends' parents collect menus of restaurants that they have visited  while travelling. They are then framed and displayed on a big wall. I LOVE THAT IDEA. It's brilliant.
Hope you leave more comments about what else you collect.