After landing in Cayman, the first thing I did was head to Kirk Supermarkets. I went there last year for my grocery supplies and went there again this year. This meant that I was somewhat familiar where everything was located and  could be on the beach by 430 p.m (we landed at 2:30 p.m – by the way).
Seeing as were staying in a private residence, I knew that we would be eating breakfast and lunch at home and only going to restaurants at dinner. Plus, we brought a lot of essentials from home. This means, I bought only the essentials: bread, veggies to make a salad, eggs, a case of diet ginger ale, a cantaloupe, bananas, and some cheese. My lovely bill was over $70. Trust me, Kirk Supermarkets is by no means a high end grocery store, but everything is imported so this means prices are higher than what we are use to.
I did however find a few things that caught my eye as "interesting". (and imported)
Ginger Gingeng Up and Cawston Press Juices in two flavors:  apple and ginger and apple and ederflower:
Ginseng Up is a 100% natural soda and I found it quite refreshing after spending 8.5 hours on the beach. (I know, it was a rough day..HA).
The Apple and Ginger juice was also a winner as I love ginger in anything.
But I think I liked the apple and ederflower even more. The combo of the apple and elderlflower was dynamite.
Sadly Cawston Press is located in the UK. I have never seen in it on the grocery shelves in Canada but will look out for on my next trip to Buffalo. You never know right? I might have passed it on those many trips I take to Wegmans!!
Kirk Supermarkets is known for importing products from UK, Asia, Latin America and South Africa. This means, that I hung out in those aisles a little longer.
Look what else I found?
Havent tried it yet…but I will.
I am also noshing on stuff I bought at  John Vince: We really tried to bring as much as possible from Toronto. I swear my bag is going to be 10 pounds lighter on my return trip.
On this plate you will find: cinnamon and black balls, (childhood memories), Australian crystalized ginger (not just ordinary ginger), Wasabi roasted broad beans and garlic flavored roasted broad beans. Plus, my favorite: peanut butter filled pretzels.
My mom and I are very happy noshing on the beach!!
As for restaurants: We went out for dinner the first nite toCimboco. We went there last year and loved it so much that we even ordered the same dish from last year.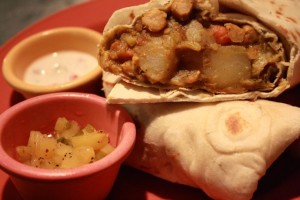 We inhaled this island-style sandwich tucked into their fire roasted flat bread and filled with traditonal Caribbean curried vegetables. This is "my type of perfect meal".
Stay tuned for more Cayman Adventures through out the week!!
p.s. finished one book already…my goal is to finish 3.