Another trip to Ottawa means another opportunity to eat!!  I ate my way thru the following restaurants and my stomach couldn't be happier.
I started off at Town. It was listed as one of top ten restaurants for 2010 in Ottawa magazine and I can see why. The restaurant was packed but I was lucky and found a spot at the bar. When presented with the menu, it was tough to make a decision what to order.  But I was super happy with my decision.  I inhaled the ricotta gnudi that was served with a walnut pesto and browned sage butter.
The next restaurant to make my stomach happy was Chez Edgar. I asked the waiter what was popular and he replied "a lot of people order the heuvos rancheros". I replied "ok – that's what I will have". I was not disappointed. It was perfect. The restaurant is situated in a house – so there's a few tables and an open kitchen.  This means that I got to watch the chef make my meal. Total entertainment.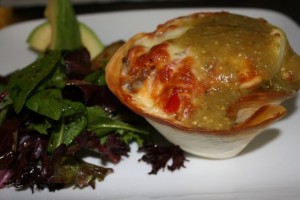 On the way out I grabbed some photos of some baked goods. OMG.!!
Next: The Scone Witch. This restaurant has been around for over 20 years and clearly has a following. It's a clever concept as you don't find too many places serving sweet or savory scones along with devon cream and jam. Again, my stomach was happy.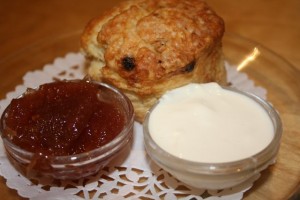 Here's the details about the restaurants:
Chez Edgar: 60 Rue Begin, Gatineau, QC
Town: 296 Elgin St. Ottawa
The Scone Witch: 388 Albert St. or 35 Beechwood Avenue, Ottawa
The highlight of the weekend, was the Cheese Tweet Up but that will be a separate posting on Tuesday. Stay Tuned.