So much is happening in the world of stores/products these days, who are catering to those with food allergies.  I would like to share some exciting "gluten free" news flashes with you in this blog post.
GOOD BYE GLUTEN…GBG:
A new store opened up recently  called Goodbye Gluten in North Toronto. ( 2066 Avenue Road to be exact). The store is stunning and has a full range of gluten free items. Everything from dry goods, (ie Gluten Free Pebbles), to frozen goods, to freshly prepared goods. I'm sure the neighborhood is delighted that this store opened up.
BETTY CROCKER GLUTEN FREE  CAKE MIXES:
This is truly amazing news that Betty Crocker has introduced a gluten free cake mix. I made it tonite and no one said anything except "Can I have another slice". LOL.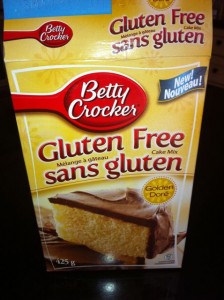 NUT'N GLUTEN:
Nut'N Gluten is located near Wonderland (3120  Rutherford Rd Unit 17). It has everything one would need and the service is amazing.
There is no question, that more and more people are discovering that they are gluten sensitive or have a gluten allergy. I went out for lunch a few months ago and all 3 off us had some type of food allergy. Two of us were lactose intolerant and the other person needed a gluten free option.
Years ago, when visiting NYC, my friend and I had dinner at Risotteria in the East Village (270 Bleeker St). It was packed with people who were seeking a gluten free restaurant. I thought it was a brilliant concept and I'm sure one day we will see a restaurant like that in Toronto. In the meantime, congratulations to restaurants like Milestones, Il Fornello, Magic Oven, The Burgers Priest and Yes to Fresh who have gluten free options for guests.
Have you noticed that more and more people have gluten allergies? Have you noticed more and more restaurants that have gluten free options?
Disclosure: I am part of the Life Made Delicious Connector Program and I receive special perks as part of the affiliation with this group. The opinion on this blog are my own.