This is going to be a fun blog post as the theme will be a He Said/She Said perspective of our pedicures that we had at the Pillar and Post. I copied this idea from a wonderful food blog that I have been following that also has a he said/she said perspective called: Tips Are Included.
I think now would be a good time to ask you to please welcome my first guest blogger, Matt, as he shares with you his experience having his first spa pedicure at the Pillar and Post.
HE SAID:
My First Spa Experience (But Second Pedicure)
With little frame of reference, I have to say it was a great experience! Having my hot tired feet declawed, smoothed massaged and painted (clear – though I was offered a colour) was a great way to spend an hour on a lazy Sunday. Following a morning splash in  the Pillar and Post's outside pool  – in the rain – and a half hour lying on a lounger when the sun returned, set me up for the guilty pleasure (for blokes anyway!) of a pedicure.
The seat had a built in massage 'thing', that I had never experienced before!  After a while, I turned it off and let the expert do her thing on my feet….. it was amazing. I'll go back for sure!
SHE SAID:
I was delighted to enjoy a quick get away to Niagara on the Lake to  visit some relatives. Every year that I visit, I end up booking an appointment at the Pillar and Post as I'm in love with their outdoor pool. Just so you know, its the ONLY hotel property with an outdoor pool in Niagara on the Lake. This year, I was going to share the experience of the Pillar and Post with Matt, who had never been to a spa before. This was really going to be a special few hours!!
Sadly, the weather  was kinda crappy that day but that's ok…we still enjoyed the pool WHILE IT WAS RAINING. I mean it……it was peaceful to be out there while it rained. We didn't mind at ALL.
After a dip in the pool, it was mandatory  to visit  the outdoor hot springs. I totally love this oasis that they have created. Not your average hot tub – that's for sure.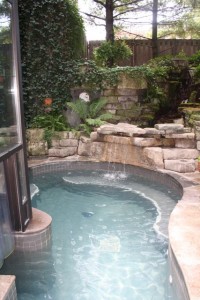 Then we chilled in the "quiet room" as we waited for our matching pedicure session. It was interesting to note that there were lots of other couples relaxing in white robes as well. It was clear we weren't the only couple enjoying a spa day!!
Finally it was our turn for our matching pedicure appointments. I was introduced to a new line of vegan friendly polish called "sparitual" and was given an extremely professional and thorough pedicure. No complaints at all.
FINAL RESULT: VERY HAPPY FEET.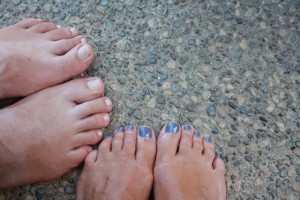 As for the service at the Pillar and Post: I have to say that everyone we encountered was friendly and courteous. Special mention to their front desk manager, Shane Howard and Ludmila at the 100 Fountain Spa, who went out of their way for me. Plus the guy at the pool who brought us towels and even hid them under a lounge chair so they would be dry!
We will certainly be returning to the Pillar and Post again!! It was great to hang out with my boyfriend in a spa and enjoy a few hours of pure relaxation and pampering.
Pillar and Post, 48 John St. West, Niagara on the Lake, 1 888 669 5566