My daughter (who is almost 12), had a friend visiting from Buffalo on Sunday. I tried to get them to go to a conservation area, but she really wanted to show her friend the "city". So we compromised by visiting Riverdale Farm and then going on an ice cream crawl.
Here's the scoop (ha ha) on the ice cream cream crawl:
1st Stop: Gregs Ice Cream (750 Spadina)
We ordered the roasted marshmallow ice cream with hot fudge sauce. Naturally – one cup and 3 spoons. We always take visitors here and our visitors are always impressed. Whats not to like? the roasted marshmallow ice cream is nothing short of perfect!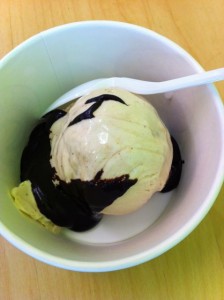 We sampled peanut butter and jelly, which was also good but I'm forever loyal to my roasted marshmallow ice cream. What a winner of a flavor!!
2nd Stop: Menchies (we went to 511 Bloor St…but check their website for more locations)
The kids loved sampling all the flavors and loved looking at the wall of famous people who also enjoy Menchies!! After they sampled EVERYTHING (well it seemed that way), they decided on "cake batter" and then threw in some toppings too. (brownies, cheese cake pieces, pineapple).
3rd Stop: Yogurty's (we went to 875 Eglinton Ave. W..but check their website for more more locations)
This is the latest addition to the fro-yo craze. Again, the kids seem to sample everything but this time they were full and they didn't order anything. (bad customers!!).
Next time, we do an ice cream crawl I know it will include Eds Real Scoop, XoXoCava and Dutch Dreams. We simply didnt have time!!
What's your favorite ice cream?
ps I realized that this "ice cream crawl" was part ice cream, part frozen yoghurt – but it wasnt a serious "tasting" – just wanted the kids to have fun. (which they did).