Recently I learned about a franchise that is the best kept secret. Believe it or not, I'm still in shock that I've never heard of this franchise.
It's called Queseda and they have over 60 locations throughout Canada!! Yes – 60. I'm still shaking my head that I had never heard of this franchise before!
The restaurant is bright and welcoming. Still shaking my head that I had never head of Quesada before. Don't worry by the end of the blog post I will get-over-it. (I think)
Also, what really sets Quesada apart is its approach to food. It's always fresh and tasty with most items made from scratch. I absolutely adore restaurants who have this commitment. They make their salsas and sauces fresh daily. The Pulled Pork Carnitas is another example of their approach to food. It's a slowcooked menu item that is made from scratch.
Last week, I was lucky enough to spend some time with Steve Gill who started this business.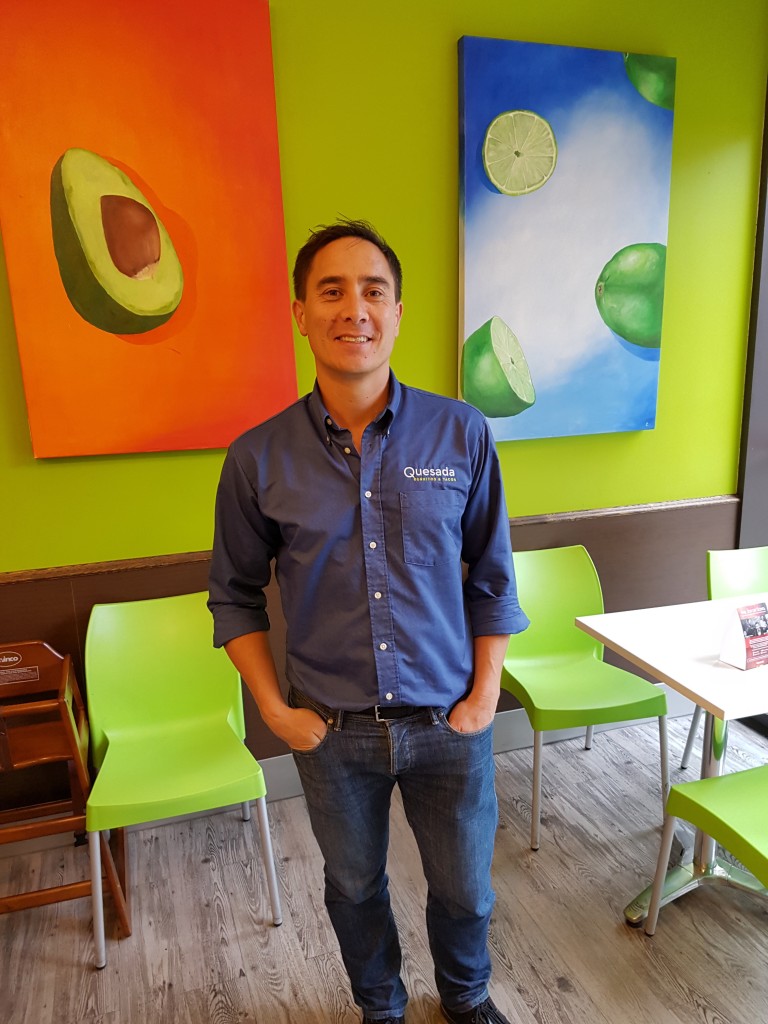 Here's more info about this entrepreneur!
Prior to entering into the food business, Gill was a successful technology consultant. However, his desire to be more connected to two things he loved – people and cooking – inspired him to make a major career change.
By the way, I can really relate to these two passions! I also adore people and cooking!!
In 2004, Gill opened the first Quesada restaurant on Wellington Street in
Toronto. When lineups started stretching through the door and around the corner, he thought he may be onto something.
Every Quesada menu item starts with Gill. His recipes are inspired by Mexican cuisine, fresh ingredients, his travels and a desire to discover tasty new flavours.
He really is involved with every aspect of his business, which is demonstrated in this photo!!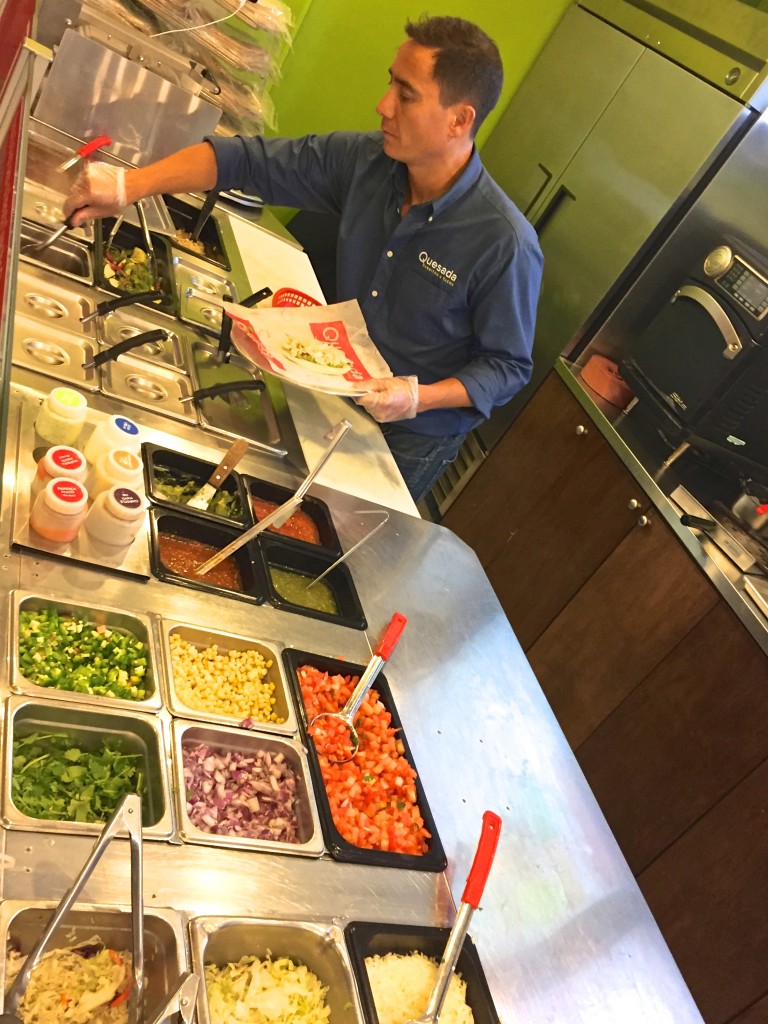 Steve has shared his famous recipe for Pulled Pork Carnitas with me and very very soon (early October) this item will be on the menu. I have no doubt it's going to be a hit.
Recipe for Pulled Pork Carnitas
Ingredients:
3 lb boneless pork shoulder
1 medium onion, diced
2 cloves garlic, minced
2 tsp oregano
2 tsp ground cumin
1 tsp ground coriander
1 tsp smoked paprika
1 Tbsp minced canned chipotle in adobo sauce
1 ½ tsp salt
½ tsp pepper
½ cup orange juice
½ cup water
Directions:
Mix together all ingredients, except for the pork shoulder, in a slow cooker. Add pork shoulder and ladle some of the spice mixture over pork to cover.
Place lid on slow cooker, set on low and cook for 8 hours.
Once cooked, remove pork onto a rimmed baking sheet, and shred with 2 forks. Add some of the slow cooker liquid back into the shredded meat, if desired.
Diner that evening was delicious and I will certainly be returning to Quesada. Plus I look forward to watching this franchise grow too.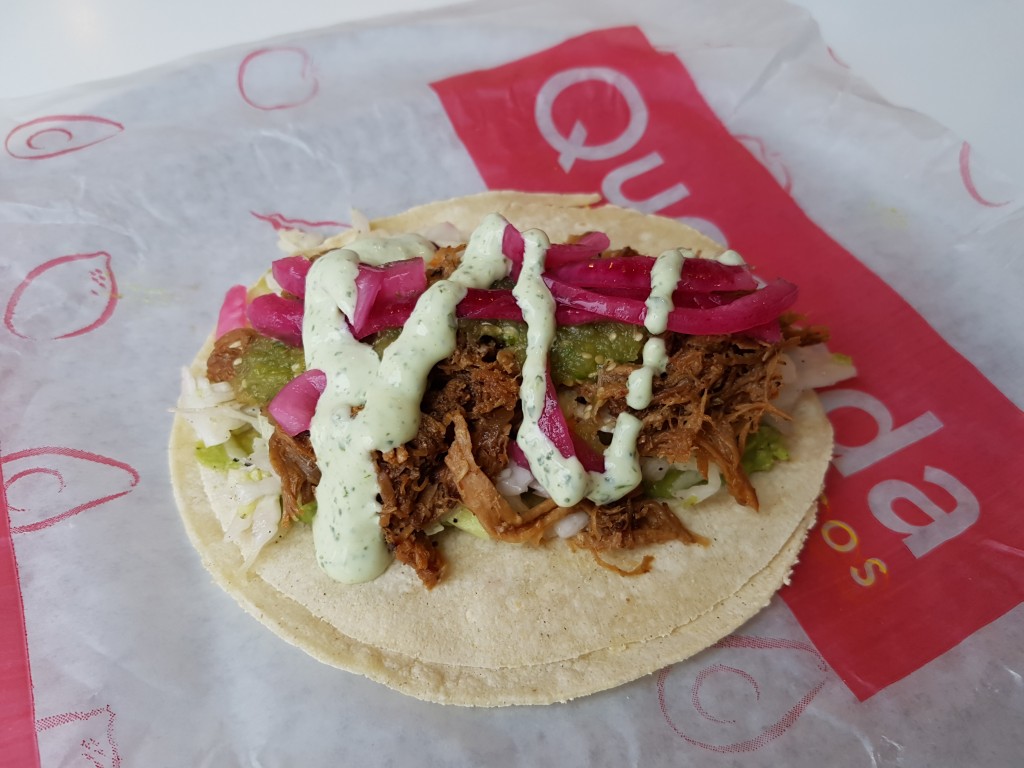 For more information:
Website: http://www.quesada.ca
Twitter and Instagram: @QuesadaBurritos
Facebook: https://www.facebook.com/QuesadaBurritos
Disclosure: I was compensated for this blog post however all opinions are my own