It's that time of year when I return to my favorite restaurants so I can enjoy some comfort food.  I generally want soup but sometimes I want a different type of soup like the one I order at: Buk Chang Soon Tofu.
I use to pass this restaurant all the time on Yonge (just south of Finch on the east side). It took me years to actually check it out as I could see thru the window that it was always packed. One day I finally made it and I was blown over!!  a) it's cheap and cheerful (my fav type of restaurant) and b) it's pure comfort food without a ton of calories.
I also found out why it's packed. You simply can't make this at home.
So what do I order?
I order the Vegetable Soon Tofu. (#6) It's basically a bowl of flavourful broth that is served in this piping-hot stone pot (in Korean, this is called dolsot) and is packed with vegetables and soft, fresh tofu.
It arrives with 4 different types of appetizers (soybean, kimchi, radish, and a bean sprout dish) and an egg for you to throw into your stone pot. All of this for $8.50 WITH TAX. Could life get any better?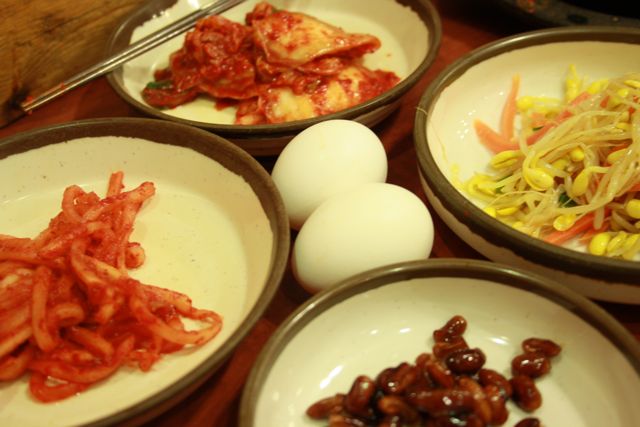 Now if you want a meat soup – there's a few options: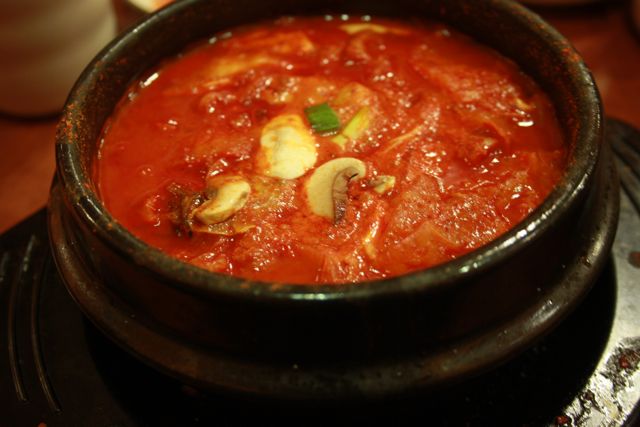 Sadly there is no website, no facebook page and no twitter presence. However you can find lots of great reviews on Urbanspoon, BlogTO, and Yelp.
For more info:
Buk Chang Soon Dong Tofu (north) 5445 Yonge Street (416) 430 7458
Buk Chang Soon Dong Tofu (south) 691 Bloor St. West (416) 537 0972