I've saved this recipe from Canadian Living since November 1993. There is a reason for that. Not because I'm a hoarder but because it's a delicious recipe.
Simple as that. I came home from work, grabbed a few ingredients and before you know it – I had banana bread in the oven. The only negative thing about this recipe is that it takes a full hour to bake. That's right – a full hour.
The good news: it's worth it.
Here's what you need:
Bakers Banana Bread (from Canadian Living, Nov 1993).
INGREDIENTS:
2 eggs, lightly beaten
1 cup mashed ripe bananas
1/3 cup vegetable oil
1/4 cup milk
2 cups all purpose flour
1 cup sugar
2 tsp baking powder
1/4 tsp salt
8 squares Baker's Semi Sweet Chocolate (I used 5 squares…coarsely chopped)
Topping: 1/2 cup chopped nuts, 1/2 cup brown sugar, 1/2 tsp cinnamon (I've never done this step but go ahead!!)
Directions:
Heat oven to 350 degrees.
Stir eggs, banana, oil and milk until well blended. (I use my Kitchen Aid).
Add flour, sugar, baking powder and salt.
Stir till moistened.
Stir in chocolate chunks.
Pour into greased 9×5 loaf pan.
Combine topping and sprinkle on top of batter (as I said earlier – I never make the topping)
Bake for 60 minutes or until wooden pick inserted comes out clean.
FINAL PRODUCT: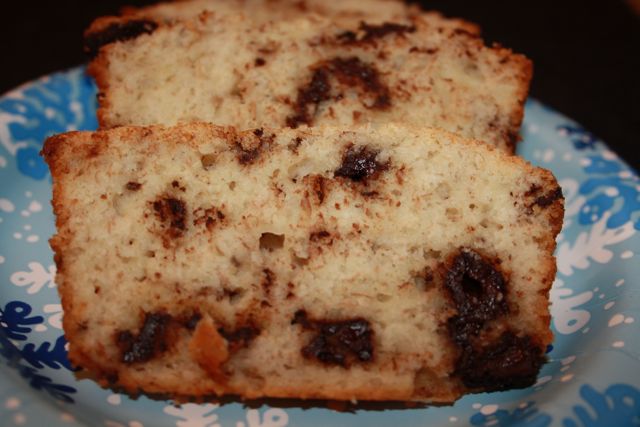 Cool for 10 minutes.