Nando's has been around since 1987 and has a huge presence outside of Canada. They have seven locations in Ontario (with two of those locations being in Ottawa and continue to expand!. Yet – for some reason I had never heard of Nando's before. This has now changed!!
I was invited to the opening of Nando's downtown location (832 Bay St) on Friday and accepted this invitation even though I really don't eat a lot of chicken. Well guess what? I ate EVERYTHING that night. In fact I even had two sliders..that's how juicy the chicken was.
The Nando's at 832 Bay St. is located in a huge heritage building. Think – massive ceilings….Think…original stunning columns. Their design team did a fabulous job to reflect this brands South African roots (the first restaurant was opened in a suburb of Johannesburg).
That night I experienced: hummus with pita, (drizzled with PERI PERI Drizzle) roasted red pepper dip, PERI-PERI Sliders, PERI PERI Fries, PERI PERI Chicken, and Chicken Skewers. I was in chicken heaven!! (and PERI- PERI  heaven too). Of course I had to try the carrot cake but it's the chicken and the PERI-PERI that steal the show here.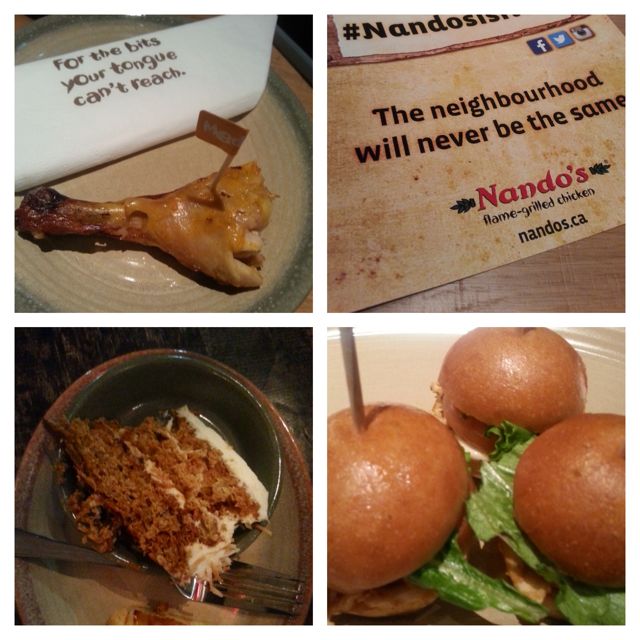 Not only am I a fan of Nando's Chicken but I'm also a fan of their clever marketing.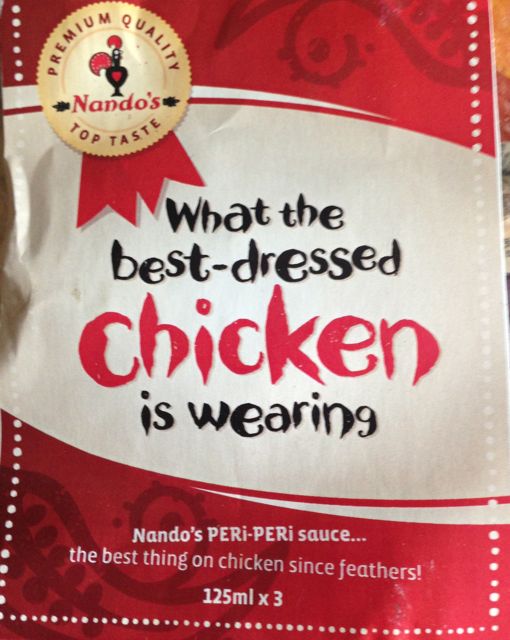 Note: Pili Pili is the Swahili word for the African Bird's Eye chilli. Nando's calls it PERI PERI and it truly is what makes their chicken so special. I will end this blog post with something I read on their brochure: The Result is ultimate PERI-fection!!
For more information:
Nando's 832 B ay St. Toronto (416) 925 8888
Facebook: www.facebook.com/NandosCanada
Twitter: @NandosPeriPeri