There is something about the month of January that just screams "TREAT YOURSELF" and I  have the perfect secret to share with you on how to achieve this – without breaking the bank!!
I recently discovered a new program called Gift Card Offers that is powered by Samba Days. It's a gift card program that offers an array of gift cards for various highly rated restaurants, spas, services, products for  15 to 38% percent off the face card value. The cards have no blackout periods, do not expire and can carry a balance. (oh how I love these flexible conditions).

I decided that this Gift Card Offer would be perfect way for me to treat myself to a facial!
This link lists what all the different offers are right now in major cities across the country.  I decided to call Chi Spa and get a facial. (which is one of my favorite spa treatments). I called them up and told them I had a Gift Card Offer and they knew exactly what I was referring to.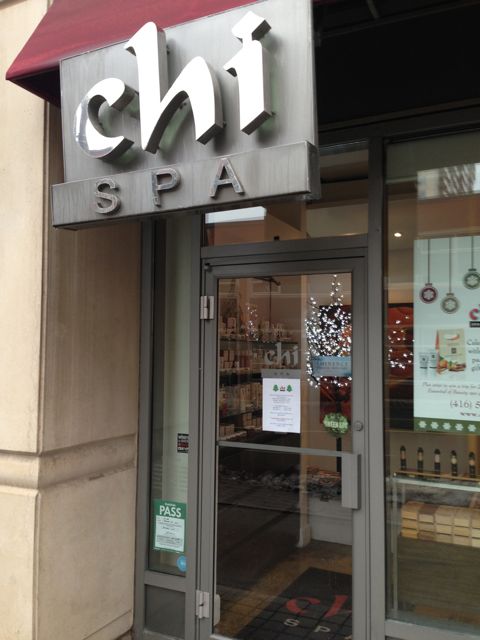 I had never been to Chi Spa before but I was immediately impressed with the FREE PARKING service that this spa offers. Sweet.
When I entered the spa, I already began to relax and unwind!! During the facial I was introduced to a new line of organic products from Hungary called Eminence. Too be honest, I think that's the first time my skin has ever been exposed to an organic skin care line.
My face was glowing after being exfoliated, moisturized, massaged etc.  Not to mention – I was totally relaxed to the point of really wanting to take a nap there!!
Varying by city,  Gift Card Offers are available at: Safeway, Loblaws, Real Canadian Superstore, Sobeys, Rexall, PharmaPlus, Save on Food, PriceSmart, Fortinos and Urban Fare. How convenient.
I would strongly look into enjoying a Gift Card Offer…for yourself (um, why not?) or as a gift!!
Happy January!!
For more information:
1. Gift Card Offers. (click here for more info)
2. Chi Spa, 1 Balmoral Toronto ON 416 515 8288
PS I was compensated with a Gift Card Offer in exchange for this blog post. However all opinions are my own.