Day two of our trip to Detroit was as successful as Day 1. We scored…. as we discovered some really cool "local" places that were definitly off the beaten track.
For example:
We went to a restaurant that served "Soul Food" called Connie and Barbara's (13101 W. Mcnichols Road) Here's proof that we were off the "beaten track". You certainly don't see signs like this in Toronto.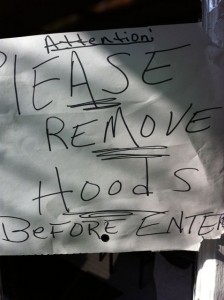 But let's talk about the food!!. We were in heaven. Our lovely waitress Donna was even from Toronto and understood our needs to "sample" a little bit of everything and to try items that we couldn't find in Toronto. We started off our meal with a Caribbean Kool Aid.
Then we ordered items like grits, cornbread, collards and pinto beans.
It was truly an experience and I would certainly return.
Then we went to Dutch Girl Donuts (19000 Woodward Avenue) as I had read that this was an Detroit Institution. We sampled hot donuts that were SO fresh and SO perfect. I now understand why this place is a Detroit Institution. i.e it's been around for 63 years.
Our next stop we discovered because of our fast friendship with our blogger friend, @JoeFoodie (who we had met at Trader Joe's on Day 1).  He told us to drop by MOCAD for a pop up restaurant called Anthology Coffee. We would have never heard of this, if we hadn't met Joe! We dropped by to check out the coffee and we weren't disappointed.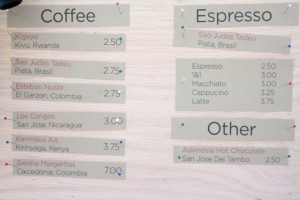 For some reason, we also stumbled across Elmwood Market and even though it was a weekday, we still took a stroll around.
Then we went to the Heidelberg Project – which was NOT a food event. SHOCK. I know!! This was one cool public display of art and we absolutely loved every exhibit.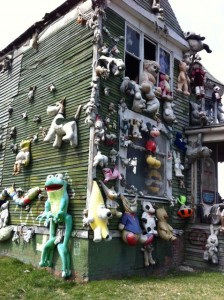 But then it was back to FOOD. LOL.
En route to Target, I noticed this DRIVE IN  called Sonic and HAD to stop. It was a blast from my past complete with waiters who brought your  food to your car on roller skates. Just look at my smile …I felt like I was 5 all-over-again.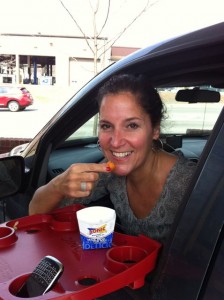 Our last meal of the day was Traffic, Jam and Snug which is a 22,000 sqf restaurant that brews their own beer, makes their own ice cream and makes their own cheese. Talk about an achievement!! We invited @JoeFoodie to join us and he invited the owner to join us as well. What a treat!! We were given the royal treatment complete with a tour, a gazillion appetizers, beer samples, mains and desserts PLUS a gift bag to take home full of baked goodies. We were overwhelmed but at the same time, totally grateful for the hospitality we received. Here are three highlights.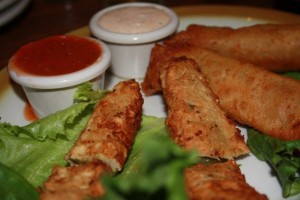 I also fell in love with this most unique salad that featured "hot sauce jelly beans" which made a normal salad something very special.
However it was this dessert that really blew us away. It's called Carlotta Chocolatta Ice Cream Cheesecake described in the menu as:  Double Chocolate Cheesecake wrapped in a coffee  ice cream, coated with bittersweet hot fudge and sprinkled with ground espresso.
Enough said – look at this photo (thanks to @JoeFoodie)
Once again, we returned to the Hilton Garden Inn located in downtown Detroit, totally full and totally happy!!