I'm not quite sure what took me so long to get introduced to Chia Seeds. I mean, it has 14 grams of FIBRE for each 1/4 cup serving. In other words – 56% of your Daily Value. That's insane!! Chia seeds are also a good source of Omega 3 Poly-Unsaturates and a good source of protein!!
So this is what I've been doing (at night) for the last week.
It's soooo easy – I feel bad to even call this a recipe!!
Here's what you need:
Here's the official recipe: (which I learned in a Vegan cooking class from Love Thy Carrot)
1/3 cup of Chia seeds. (I purchased mine at Costco)
1 1/2 cups Silk Almond Milk (but you could use any type of milk)
A touch of vanilla extract
*you could also add a touch of sweetener (honey, agave, etc)
1. Add all ingredients into a mason jar.
2. SHAKE. SHAKE. SHAKE.
3. Put it int the fridge. Then about 30 minutes later – SHAKE. SHAKE. SHAKE. Return the jar back to the refrigerator.
Voila – breakfast will look like this in the morning. Alternatively, you can make it during the day and just let it sit in the refrigerator for at least 4 hours.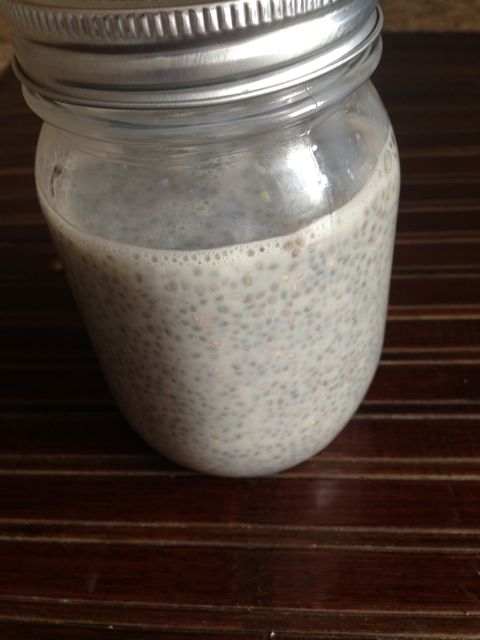 I've been chugging it back – before my work out and even after my workout. Sometimes, I take the whole mason jar with me in the car and sip it in between errands.
But if you want to get fancy – you could actually put it in a bowl and top it with fresh fruit or dried fruit (like the dried mango from Natural Sins)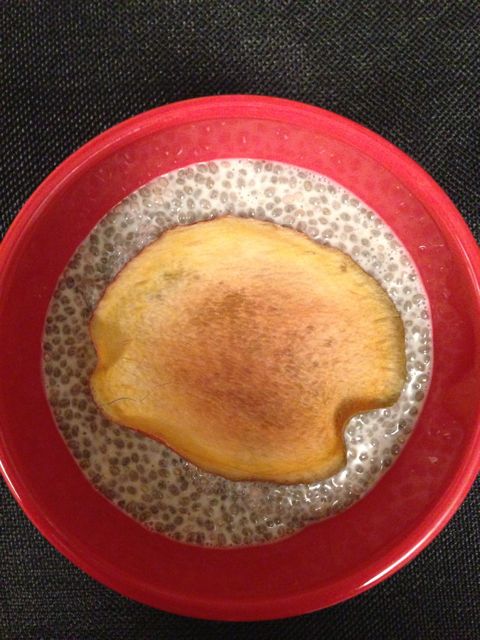 I really (really) hope you get a chance to check out this superfood!!
P.S. Huge thanks to Voula Halliday who encouraged me to share this recipe! Oh how I love my facebook/twitter friends.