My last blog post was about camping so I thought it would only be appropriate to do a blog post about GLAMPING. Here's the definition of Glamping according to Wikipedia:
Glamping is a portmanteau of glamour and camping and describes a style of camping with amenitiesand, in some cases, resort-style services not usually associated with "traditional" camping. Glamping has become particularly popular with 21st century tourists seeking the luxuries of hotel accommodation alongside the escapism and adventure recreation of camping
My glamping experience this year, was at Langdon Hall as it fits my criteria when I want a QUICK escape. To be exact: It's about an hour away from Yorkdale Shopping Centre.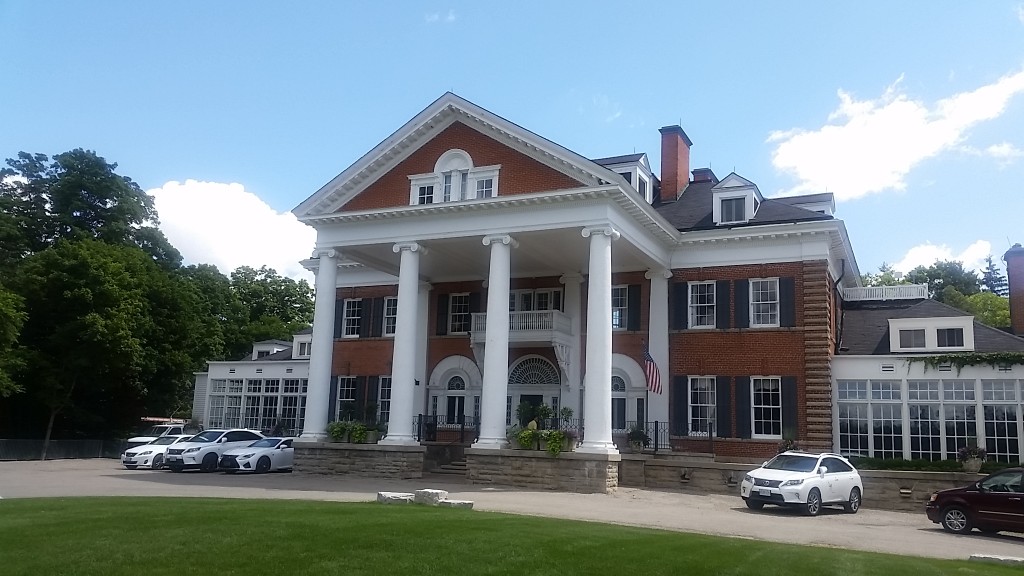 I have been escaping to Langdon Hall for over a decade but only for a day trip (think Spa treatment and then hang out at the pool). But this trip I actually stayed overnight. What a treat!!
This meant I had time to play tennis, (twice!!) and go for a quick ride on a tandem bicycle. #FUN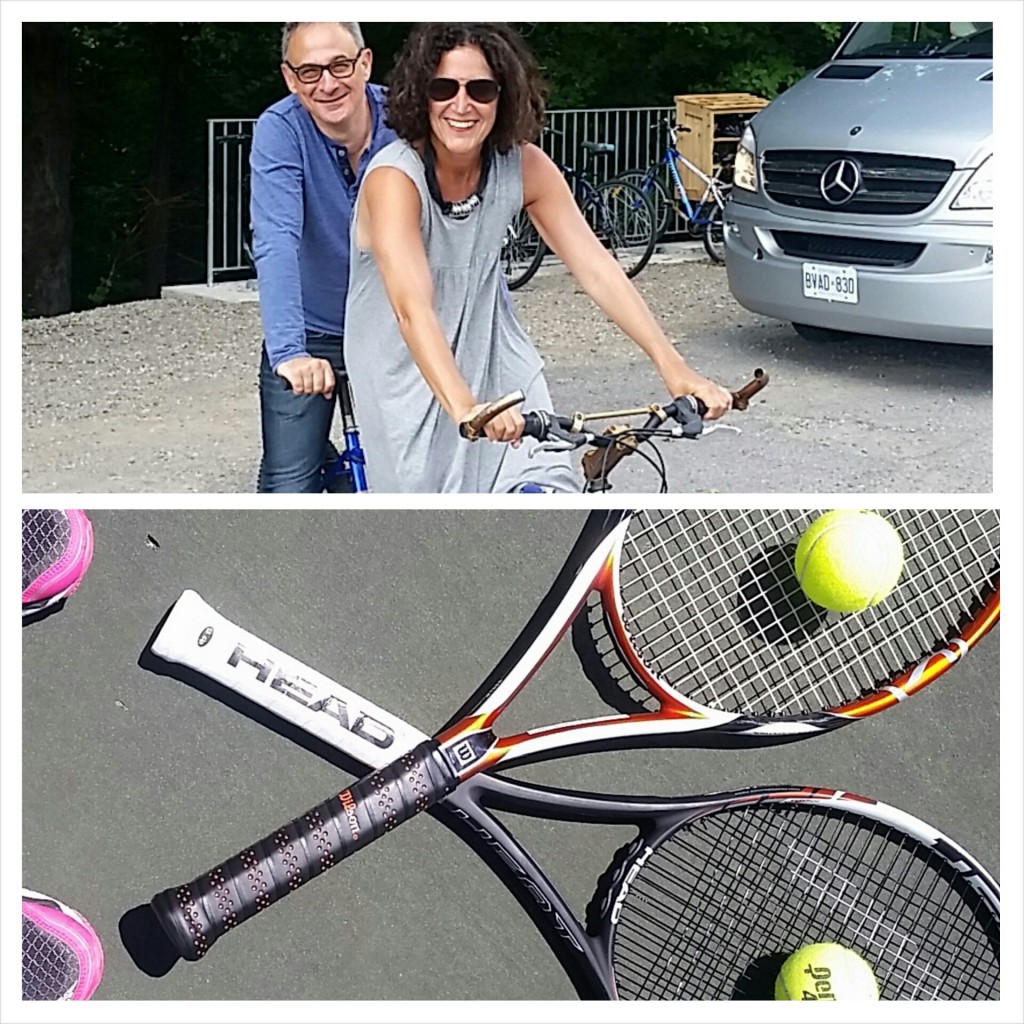 We even took advantage of the complimentary Wine Tasting that was taught by one of the sommeliers on staff (there's actually a few of them at Langdon Hall). It was a fun blind wine tasting and sure enough my fav wine was a 2010 Charles Baker Riesling from Stratus Vineyards in Niagara on the Lake.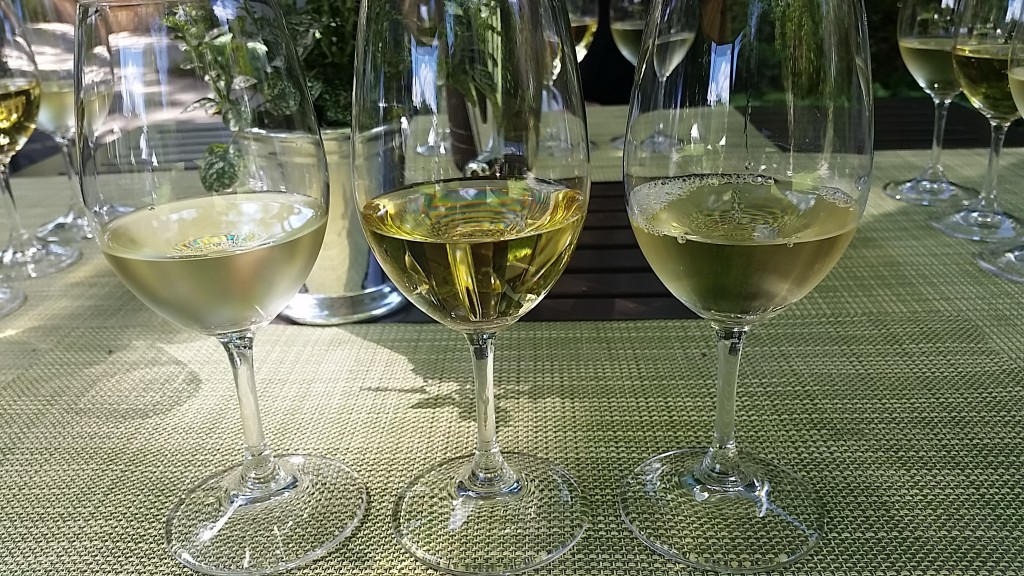 During July and August, Langdon Hall offers a variety of complimentary activities for their guests: wine tastings, garden and history tours, cooking demonstrations and even a vegetable garden tour.
Naturally, we also relaxed by their exquisite pool.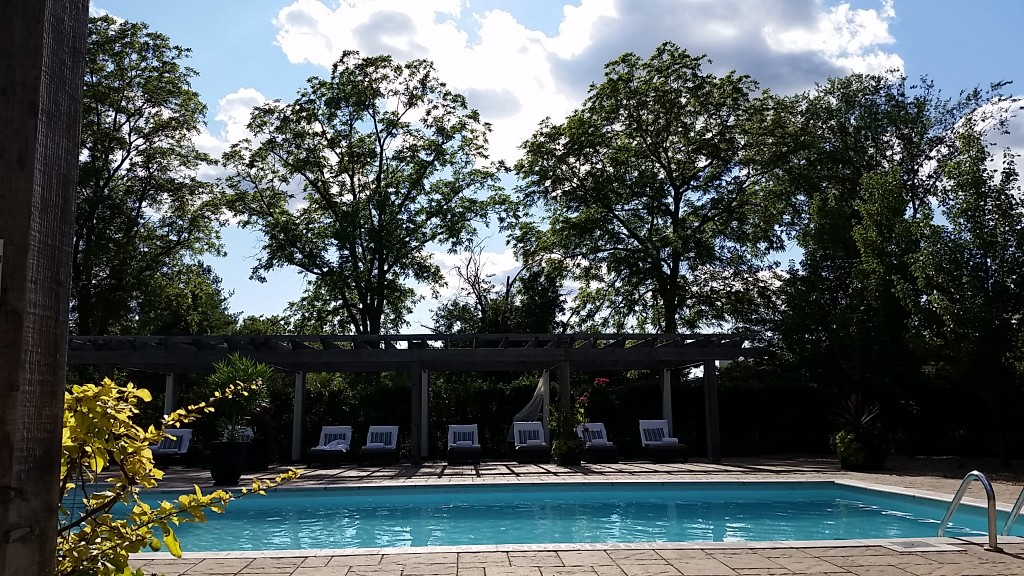 What strikes me the most about this majestic property is their lush grounds and their spectacular vegetable garden. I couldn't stop snapping photos of GREEN!!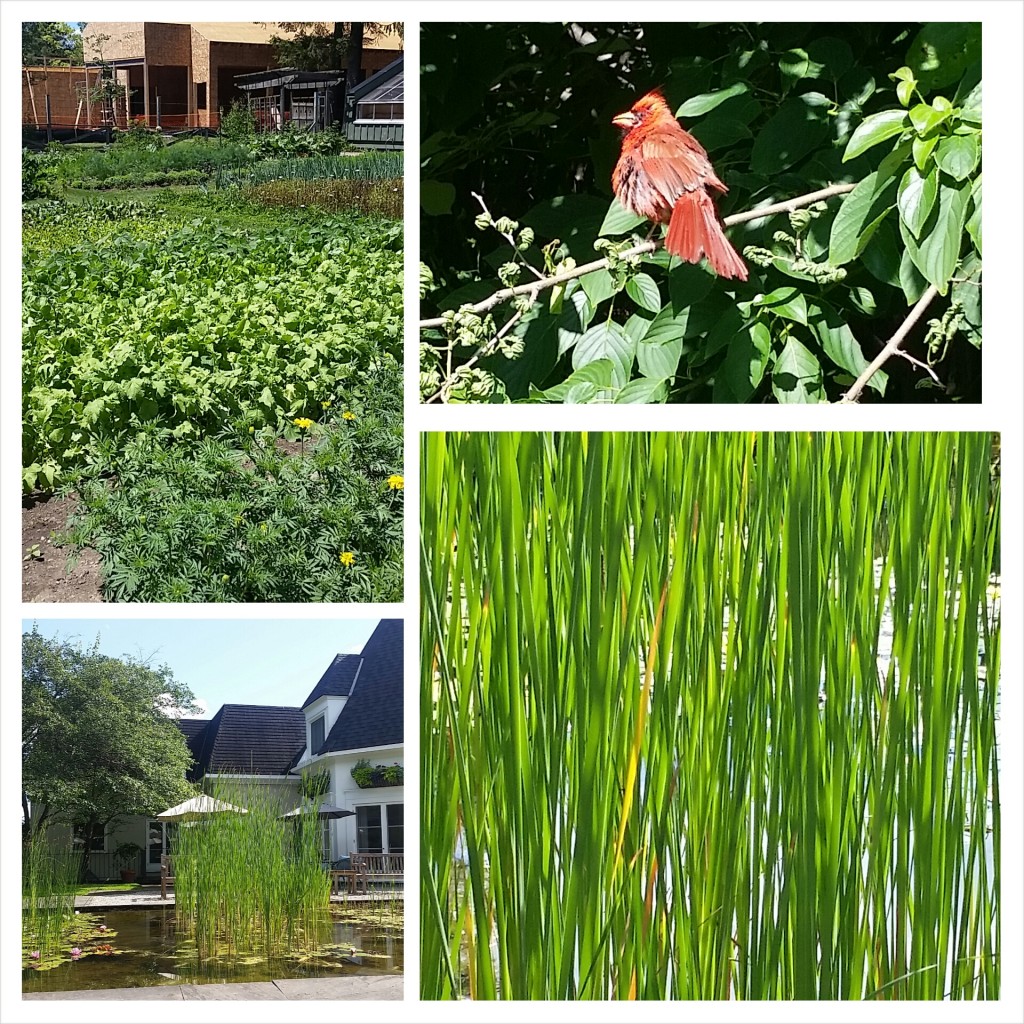 The highlight of our trip was the chance to eat at Langdon Hall and to chat with Chef Jason Bangerter.  Notable achievements while at Langdon Hall include:
Relais & Chateaux, Rising Chef Trophy 2015
Five Diamond Restaurant Award by CAA/AAA 2014
Gold Medal Plates, Toronto 2014 – Received the Bronze Medal, fundraising chefs competition for Canadian Olympic and Paralympic athletes.
The Good Food Innovation Awards – Received Gold by Food Day Canada for the demonstration of an innovative Canadian menu.
Relais & Chateaux, Gourmet Fest at Carmel by the Sea – selected as the only Canadian Chef to take part in this 60th anniversary celebration.
Sadly, we weren't that hungry and only ordered two items from their dinner menu.
-East Coast oysters with rhubarb and green apricot mignonette, garden hot sauce.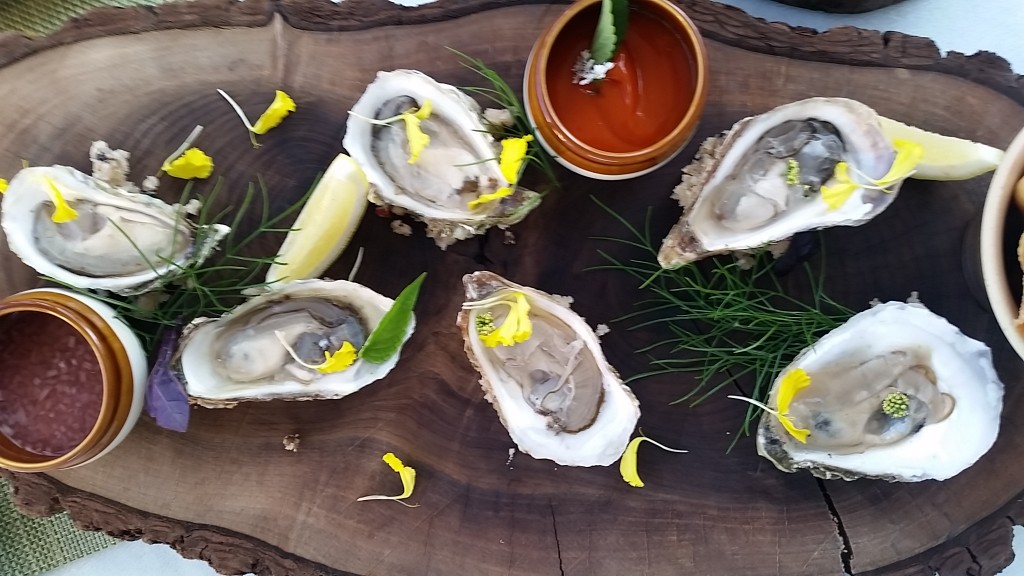 -Potted chicken liver pate with elderberry and thyme jelly, spring vegetables and sourdough crisps.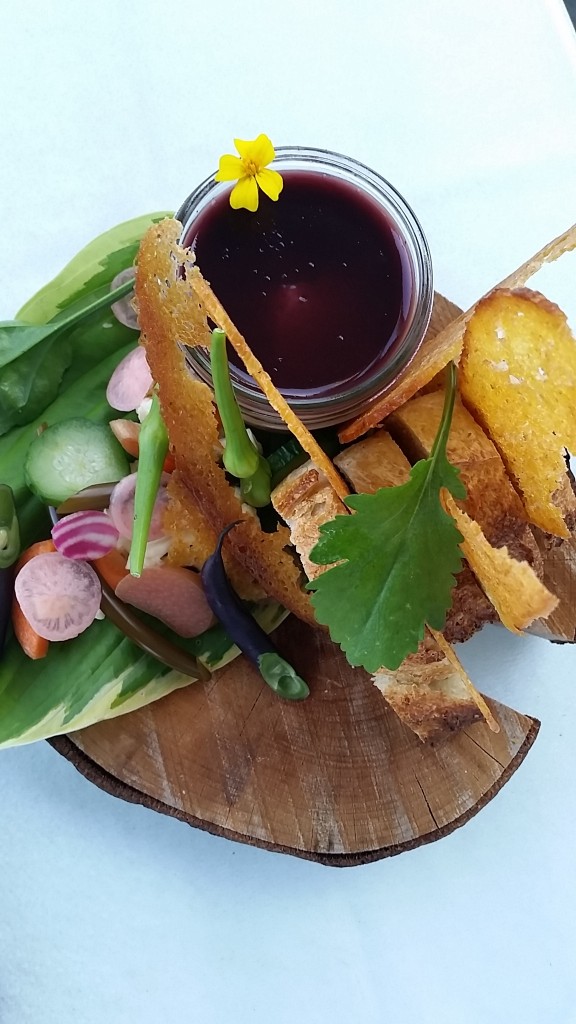 I can't wait to return and order more dishes from this talented Chef.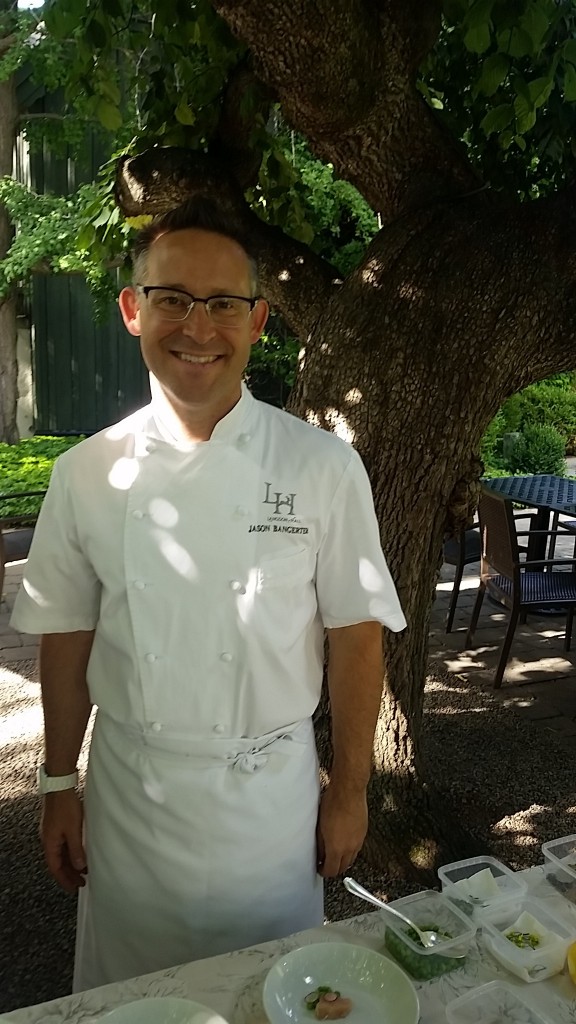 I also can't wait to sleep on their beds again. I actually had to look to see what I was sleeping on and discovered it's a feather bed. I also found out when I was leaving that you can buy it online.  I think I will be treating myself to an early birthday gift (err..about 8 months early. LOL)
Of course, the service we received EVERYWHERE was spectacular. Everyone we encountered had a smile on their face ..the bellman, the pool staff, our waitress at the bar, the front desk staff and cleaning staff too. It was truly a pleasure to stay at this Relais & Chateaux, designated hotel. Just so you know – there's only two properties in Canada with this designation.
Other exciting news about this property is their expansion, which include a new spa and more event space. It's scheduled to open in the Fall and I have no doubt that it's going to be magnificent. Can't wait to check it out. (note to self: put this in my calendar…NOW)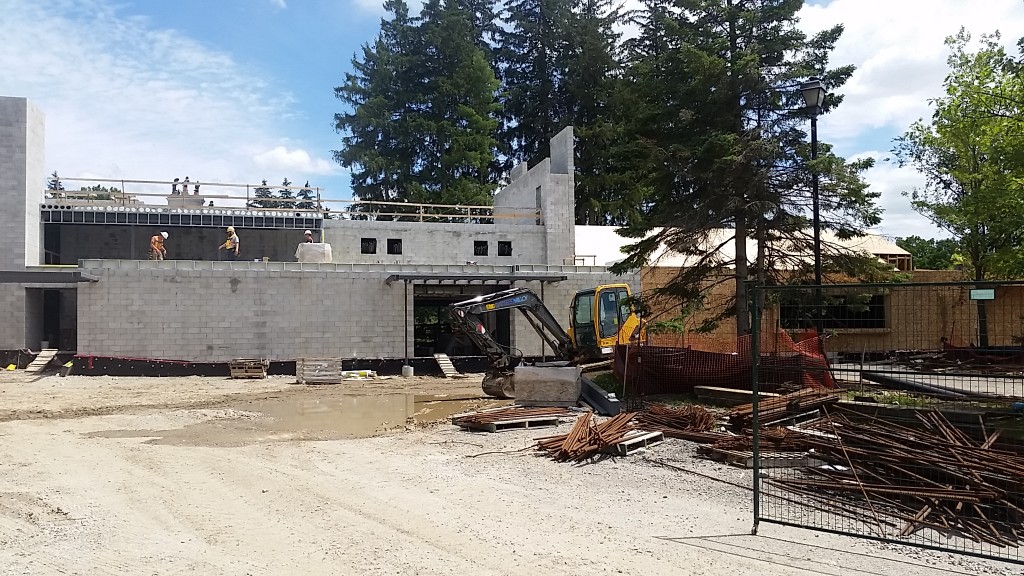 For more information:
Langdon Hall, 1 Langdon Drive, Cambridge, ON
Telephone: 519-740-2100
reservations@langdonhall.ca
Twitter: @Langdon_Hall
Instagram: @LangdonHall