I'm a big fan of making individual desserts. I truly believe if you serve a big cake to your guests everyone will say "I will pass". But if you present them with their own dessert on a plate – they will accept it. Do you agree?
The dessert I served at a dinner party this past week was indeed "blog worthy" so here it is.
APPLE PIE BAKED APPLES (original recipe from Sally's Baking Addiction can be found here)
Ingredients:
1/2 recipe homemade pie crust (ok I cheated and bought ready made pie crust)
1 teaspoon cornstarch
1 Tablespoon  warm water
8 firm apples  (Granny Smith, Honey Crisp, Gala) – 2 apples will be used for the apple filling)
1 teaspoon cinnamon
1/2 cup granulated sugar
1 teaspoon vanilla extract
1 large egg
1 teaspoon milk
homemade salted caramel sauce, for drizzling (optional)
Directions
Prepare the pie crust, including allowing it to chill for at least 2 hours. Or if you are short of time (story of my life) – take the pie crust out of the box and cut it into 1/4 inch wide strips.
Make the apple filling: In a very small bowl, mix the cornstarch and warm water together until smooth, creamy, and the cornstarch has disolved. Set aside. Peel and dice 1 apple. In a medium saucepan over medium heat, cook the apple pieces, cornstarch/water mixture, cinnamon, and sugar. Stir constantly for 5 minutes. Switch to low heat and allow to simmer for 5 minutes. Remove from heat, stir in the vanilla, and allow to cool off for 20 minutes.
Assemble: Slice off the tops of the 4 remaining apples. Using a spoon (or melon baller), dig out the core. This takes some effort but its worth it.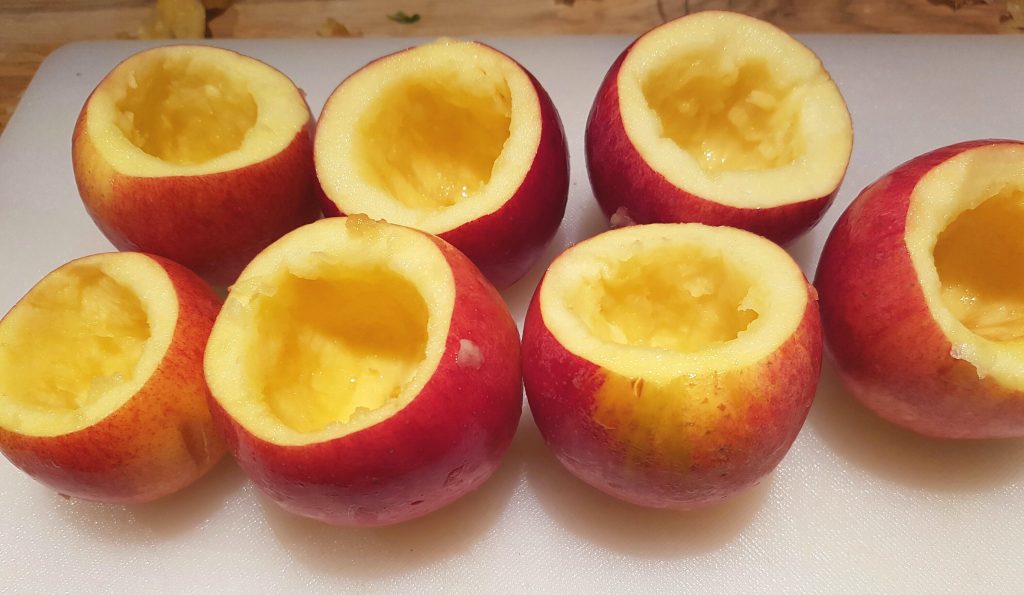 Spoon the prepared apple filling into the cored-out apples.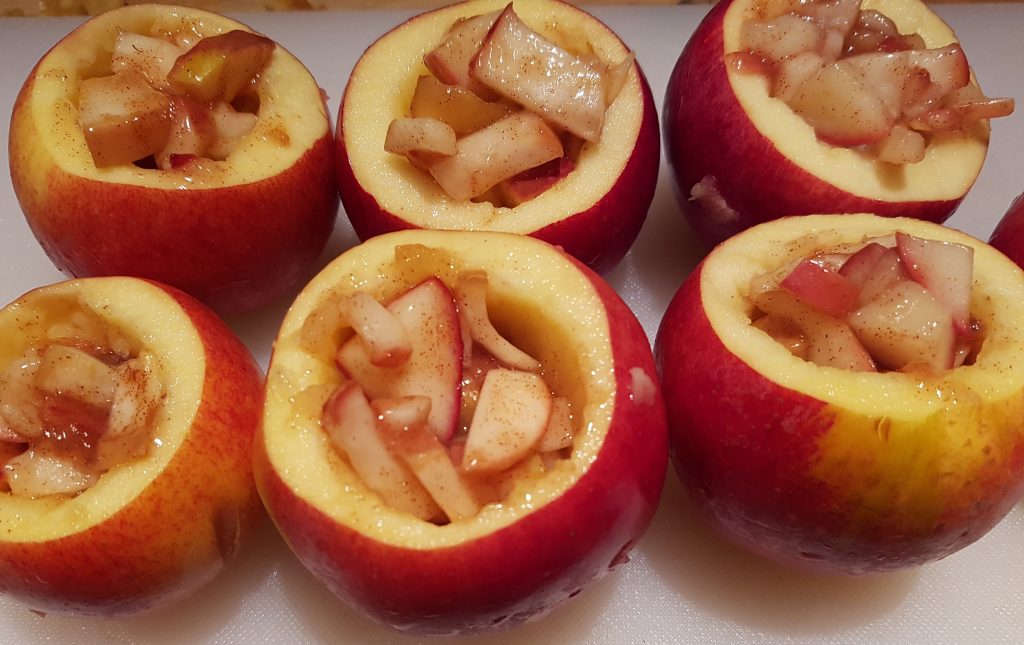 Lay 3-4 strips of the pie dough on top of the apple. Then, working with one new strip at a time, alternate weaving it over and under the dough strips already in place. Repeat until the top of the apple has been covered in this lattice style crust. Using a sharp paring knife, trim excess pie crust around the edges. Repeat with remaining apples and pie dough strips.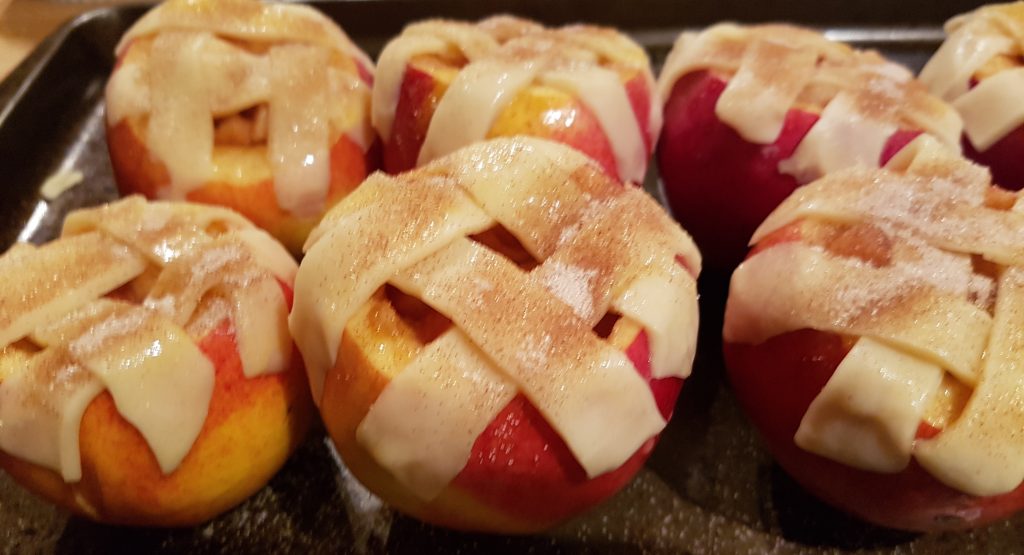 Bake:
Place apples into an 8-inch or 9-inch square baking pan or pie dish– really any size baking pan works. In a small dish, whisk the egg and milk together. Lightly brush the tops with egg wash. I sprinkled a little bit of cinnamon on top of the egg wash before going into the oven.  Bake for 25-30 minutes in a 375 degree oven or until the crust is browned and the filling is bubbly.
If desired, drizzle each with salted caramel. Serve with ice cream!!
FINAL PRODUCT: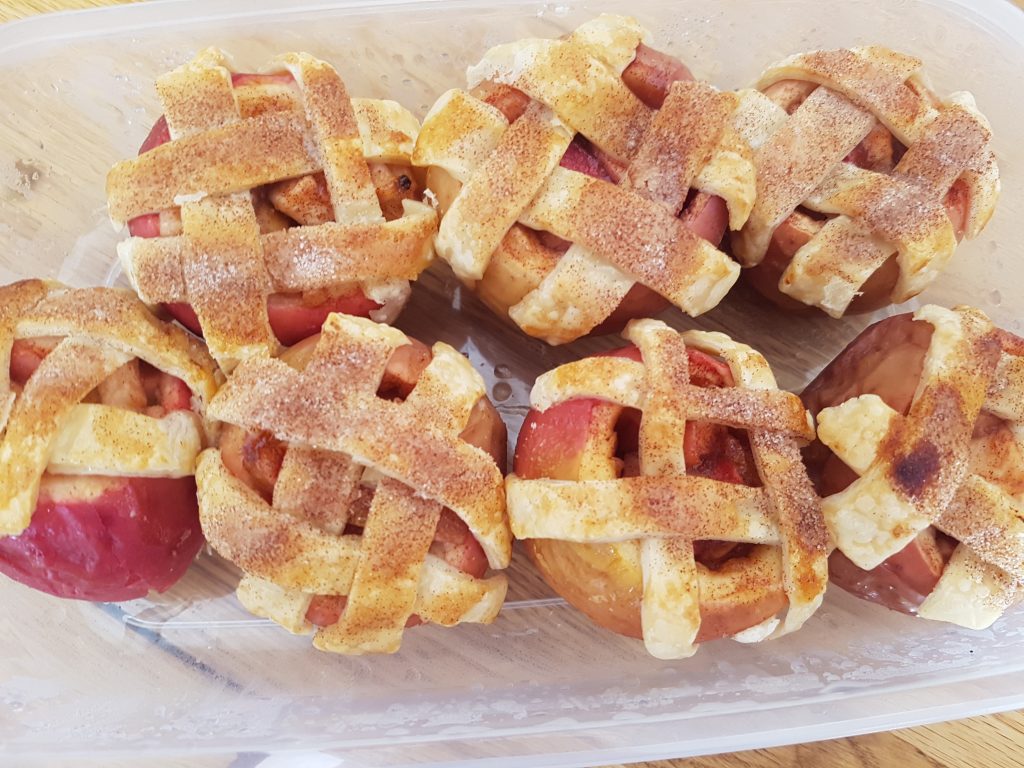 Happy Baking!!