Recently, I made a new friend on Twitter. When I saw that she had a blog called Fables and Focaccia,  I knew that she would be the perfect person to invite over to help me use my Kitchen Aid Pasta Attachment. Sadly the Pasta Attachment had been sitting in a box for MONTHS. I was all too thrilled that Jenny agreed to come over and share her expertise with me.
The evening started off with wine. (of course).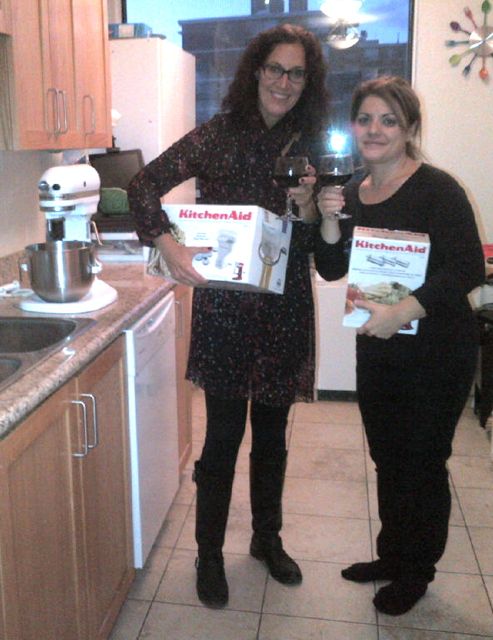 Then Jenny started to mix a few ingredients together and do her magic.  As for me….I was too busy taking photos and drinking wine to actually participate.!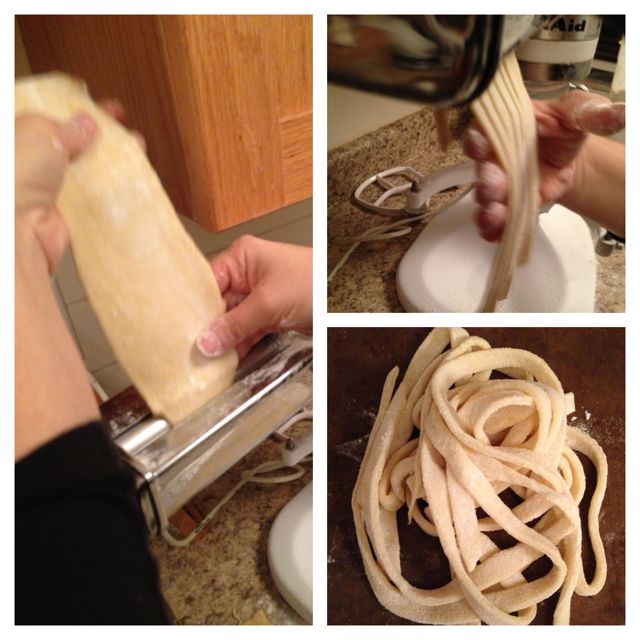 Before you knew it – we had an amazing meal of pasta in browned butter with fresh sage. Even though I'm on a carb free diet, I couldn't resist and dug into this bowl of fresh pasta.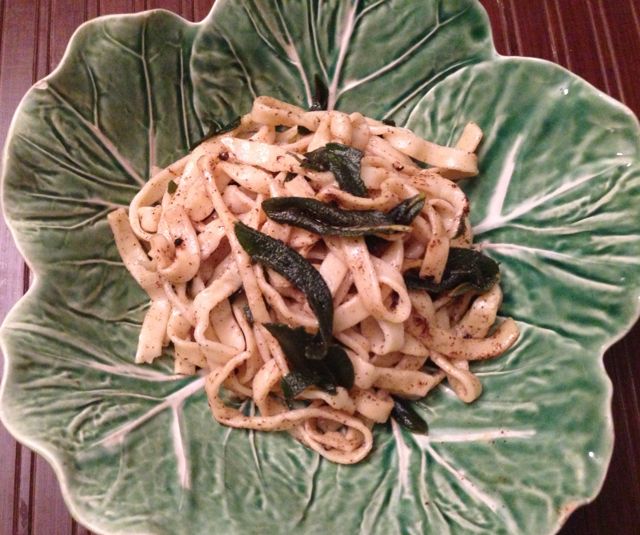 Jenny was even kind of enough to share her recipe with me:
INGREDIENTS TO MAKE FRESH PASTA (we doubled this recipe)
1 whole egg
100g all purpose flour (if "00" flour can be found it makes a much lighter pasta dough)
Pinch of salt (1/4 tsp approx.)
1 teaspoon olive oil
DIRECTIONS: Mix by hand, or pulse in a food processor with "s" blade till the flour becomes yellow and moistened, then knead by hand till completely incorporated, (5 mins) 
Then cover and let rest for 20 mins. 
Them divide into manageable pieces, and start rolling it out with a rolling pin, or with a pasta machine. 
* Jenny has made fresh pasta before and was totally in love with the Kitchen Aid Pasta Attachement. She loved how quickly and effortlessly it was to make fresh pasta!!

SAUCE – SAGE IN MELTED NUTTY BUTTER
Fine sea salt
1 1/2  sticks (12 tablespoons) unsalted butter, cut into small pieces
1/4 pound prosciutto, sliced 1/8-inch thick, cut into 1/8-inch dice  (optional)
12 small sage leaves plus more for garnish
14 ounces fresh or dried tagliatelle
Flaky coarse sea salt
DIRECTIONS:
In a small skillet, combine butter and prosciutto; heat over medium heat, stirring, until butter is foaming. Continue to heat until butter just begins to turn a pale, golden color, then add sage and cook 1 minute more. Remove pan from heat.
Cook pasta in the boiling water until al dente (about 3 minutes for fresh pasta). Reserving 2/3 cup of the pasta cooking liquid, drain pasta and immediately transfer to a large bowl.
Add reserved pasta cooking liquid and butter sauce and toss to combine well. Season to taste with crushed flaky coarse sea salt. Garnish with sage and serve immediately
We had a blast with our "Pasta Project" and can't wait to collaborate in the kitchen again!
A huge thanks to Kitchen Aid for this amazing Pasta Attachment and a huge thanks to Jenny for taking the time to teach me how to finally make fresh pasta.
Happy Cooking!!