I love having company over for Friday nite dinner. I have been entertaining on a regular basis since 1990 and it's always a pleasure to share a meal with my friends, or new neighbors and even people who are new to Toronto and I barely know!! Lately I've been sending my guests the menu in advance to make sure that they like everything and have no allergies to anything I'm going to serve.
My rule of thumb these days: One main course and three side dishes. (and dessert, of course)
Last Friday night, the meal I served consisted of:
Phyllo Wrapped Halibut in a Lemon Cream Sauce (see recipe below – courtesy of Allrecipes.com)
Tzatziki: (sorry no official recipe except to combine cucumber slices, crushed local garlic, (I used garlic from Stone Soup Farms) greek yoghurt, and dill in a bowl) ps local garlic makes ALL the difference.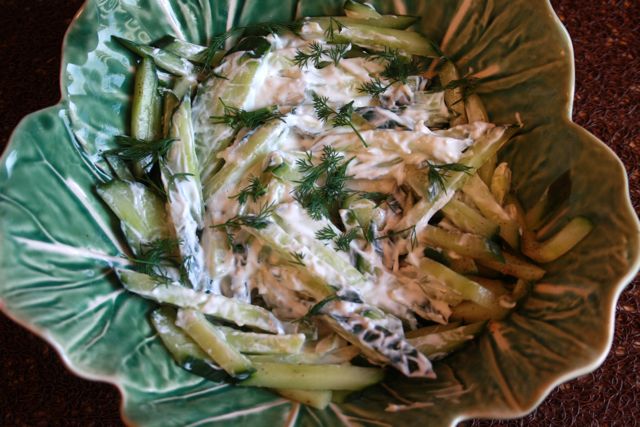 Parmesan Celery Salad (courtesy of Cookbooks 101) ps. click on the link for the recipe!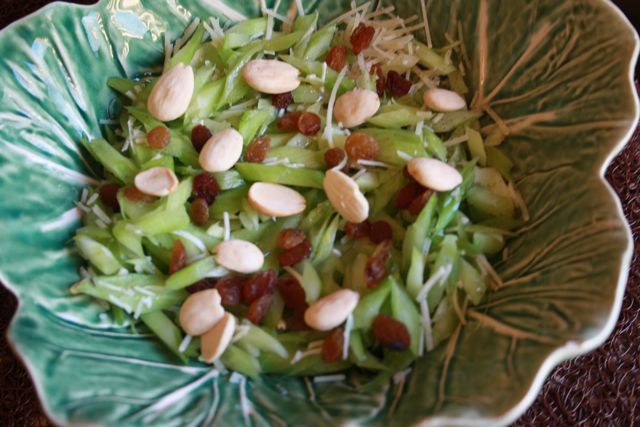 Jicama with chipotle seasoning and lime juice.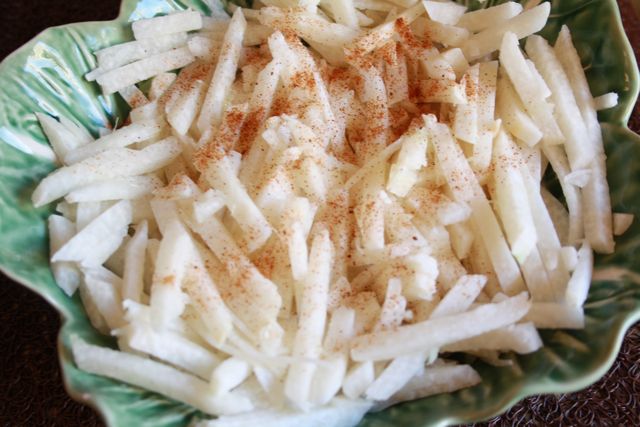 Here's the recipe for the fish dish. Hope you get a chance to try it.
Phllyo Wrapped Halibut in a Lemon Cream Sauce
Original recipe makes 2 servings
INGREDIENTS:
2 tablespoons melted butter
4 sheets phyllo dough
2 (5 ounce) halibut fillets
salt and pepper to taste
2 teaspoons chopped fresh dill
3 tablespoons lemon juice
1/2 cup whipping cream
2 green onions, finely chopped
 Directions
Preheat oven to 425 degrees F
Lightly butter 1 sheet of phyllo dough. Lay another sheet directly on top of the first sheet, and lightly butter it. Repeat with remaining 2 sheets of phyllo. Cut sheets in half.
Season halibut fillets with salt and pepper. Place a fillet near the bottom edge of one of the halved sheets of phyllo. Sprinkle with dill. Fold in the sides of the phyllo, then roll the fillet. Place on a baking sheet, and lightly brush with butter. Repeat with remaining fillet.
Bake in a preheated oven until pastry is puffed and golden brown, about 12 to 15 minutes.
Meanwhile, bring lemon juice to a boil in a small saucepan over high heat. Boil until almost evaporated. Reduce heat to medium, and stir in cream. Simmer until the cream thickens somewhat. Stir in green onions, and season with salt and pepper. Serve halibut on a pool of sauce.