As you know, travelling can be expensive. However by using Airbnb and staying in one of their properties instead of a hotel can save you a lot of money!! I had talked to a few other food bloggers who had used airbnb and everyone seemed to have had a positive experience.
Accoording to Wikepedia, As of 2012, the company had 250,000 listings in 34,000 cities and 192 countries. I also learned that it's a privately held company based out of San Francisco. Interesting.
I downloaded the (free) app and then you search the city you are travelling to. (in my case, I was looking for a property in Barcelona).
Here's what you need to do:
-read the reviews carefully
-read the details carefully
-look at the photos carefully too
I did this for HOURS and then finally selected "Central Garden Entrance Suite. Here's the description that sold me (ps the reviews and the price sold me too)
This Suite Apartment is recommended for couples, families and friends who value privacy and central location at an affordable price without compromising comfort.
At 35m² this suite resembles a small hotel room with the added benefits of a kitchen. It is located in a very clean and well maintained building with a unique "Garden Entrance" in a vibrant part of the city centre (7 minutes walk to Las Ramblas). 
This suite has a kitchen with everything you need to prepare simple meals using fresh ingredients from the Sant Antoni market at your doorstep (or the Boqueria market a 4 minute walk away), there is also a microwave to make a quick meal. It also has a private, modern bathroom with a spacious shower and a bathtub. There is also a washing machine in a seperate room shared with 4 other studio's/suites where you also can hang up your clothes. Furthermore the suite is fortunate to come with a large balcony to enjoy people watching in the streets below..
Just steps away is the renowned meeting place Els Tres Tombs- an excellent spot for Tapas accompanied by a glass of locally brewed Moritz beer. With Ronda Sant Antoni at your doorstep, La Rambla a short walk away and the increasingly trendy and multicultural neighborhood of El Raval around the corner, Sant Antoni is a convenient and exciting place to stay.
I made a request to stay there and then heard that my request was accepted. WOOT.
I thought that having an entire apartment for $79 a night was a great deal!  I was also super excited to have a unit with a kitchen but only used it once. (can you believe?)
 My dream came true as I was able to shop for fresh shrimp  and garlic at the Boqueria market and then come home and make myself a little snack!!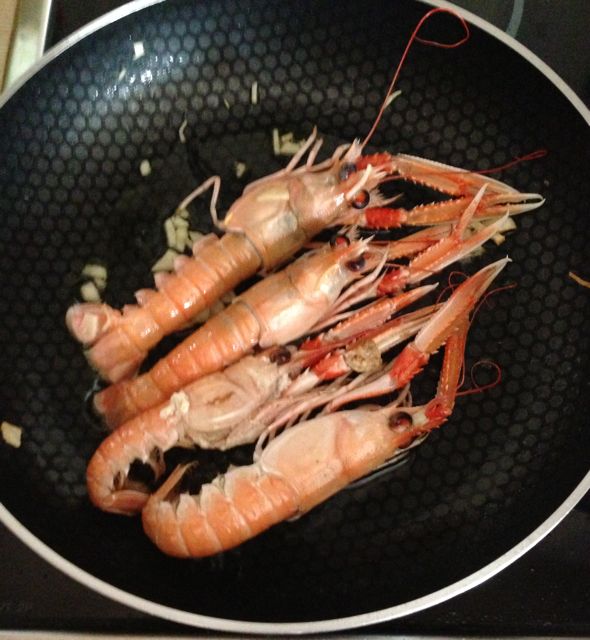 Airbnb is so addictive that I find myself scrolling through photos DREAMING of my next travel adventure.
I would definitely be using Airbnb on future trips. My host answered all my questions (and there was more than one!!) and the property was spotless, in a great location and a price that I couldn't beat.
PS for fun it's even neat to put in the city you live in – to see what comes up!!
Happy Travelling!