Despite the rains and the clouds on Thursday afternooon, I headed down to Bandshell Park (at Exhibition Place) so I could enjoy Toronto's Festival of Beer. I'm not a fan of crowds so I always go on the first day. It was a great move! Me. Smart.
What did I discover this year?
BEER: Seeing as I am on week #6 of  a no carb diet…the beer festival was the last place I should have been. Not to mention, I really really like beer. HOWEVER there is good news. I discovered Michelob Ultra. I only had 2 beer tickets and I used both tickets on this beer. I was thrilled that there was a beer that I could drink during the Festival. If you look closely in the photo you can see my GLASS souvenir beer mug. I love this new mug…so much better than the plastic that they use to give out.
I bumped into old friends, like Great Lakes Brewery and made new friends, like The Beer Academy!!
FOOD: Beer and Food go hand in hand. Don't you think?  I was delighted to discover some new vendors this year: Fidel Gastro, Belly Busters, K-song Taco and the nicest guys called  Snoballandsons raising money for Prostrate Cancer. There was also quite a few food trucks as well.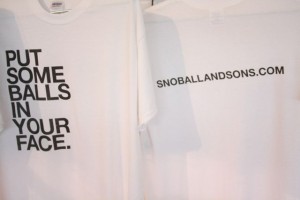 I had a snoball with SUGAR FREE syrup and I was in heaven. Not to mention it felt good to support this booth and help them raise some $$.
MUSIC: I never stay long enough to sit down and enjoy the music and stay till 11 pm. But as I walked around, I certainly did enjoy the music and made a mental note to myself to make sure that I could stay longer next year. I hear that the line up on Sunday is awesome. #justsayin'.
The Festival is sold out on Saturday but if you hurry and visit their website you can buy tickets for Sunday. Not to mention, that the weather is going to be perfect on Sunday. Go for it. You can thank me later.
Toronto Beer Festival, July 27-29, Bandshell Park, Exhibition Place