I saw this recipe back in February (from Pinterest? Twitter?) and finally got around to making it. Naturally I didn't follow the recipe exactly so I encourage you to look at this blog post first….click here). 
I adore recipes that take an original recipe and just by baking it in a muffin tin – presto – you have a total new appreciation of lasagna!
LASAGNA CUPCAKES (adapted from www.howtosurvivelifeinthesuburbs.com)
1 package of Olivieri®  lasagna sheets
1 cup of ricotta
2 eggs
1 cup of shredded mozarella
1 cup of your favorite pasta sauce
1 package of frozen spinach, thawed (optional)
1 tablespoon of dried basil
INSTRUCTIONS
1. Preheat oven to 375. Spray your Muffin Pan with Pam® (this will allow your lasagna cupcakes to come out with ease and help with clean up afterwards).
2. Cut the lasagna sheet into squares that will fit your muffin pan.(I used scissors for this step).  Place the lasagna "squares" into the muffin tray.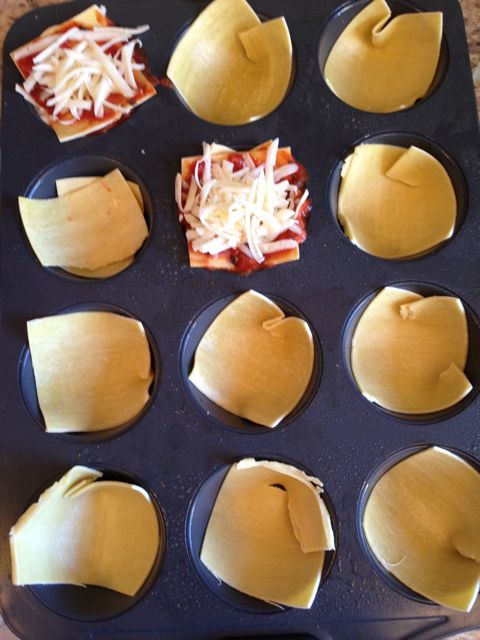 3. Whisk the ricotta cheese and eggs together till it's nice and smooth.
4. Add a generous dollop of pasta sauce into the muffin pan (spread generously). Then add the ricotta cheese mixture. Then sprinkle  the mozzarella cheese on top. Then add another lasagna square. Repeat – dollop of pasta sauce, then ricotta cheese, then mozzarella. Add another lasagna square. Add tomato sauce. Sprinkle with mozzarella and dried basil.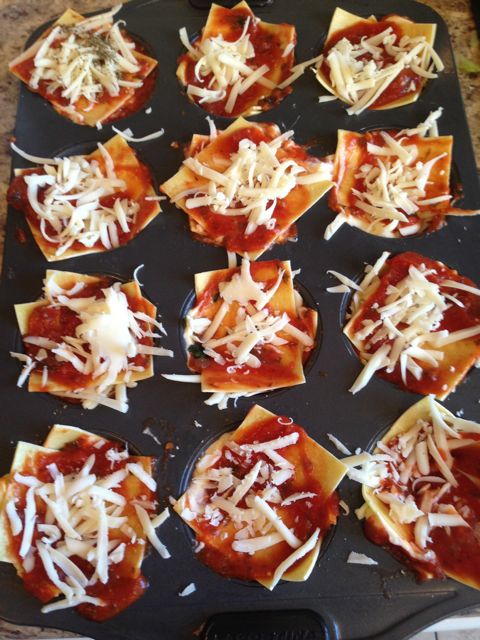 5. Bake 25 minutes in a pre heated 375 degree oven.
FINAL PRODUCT: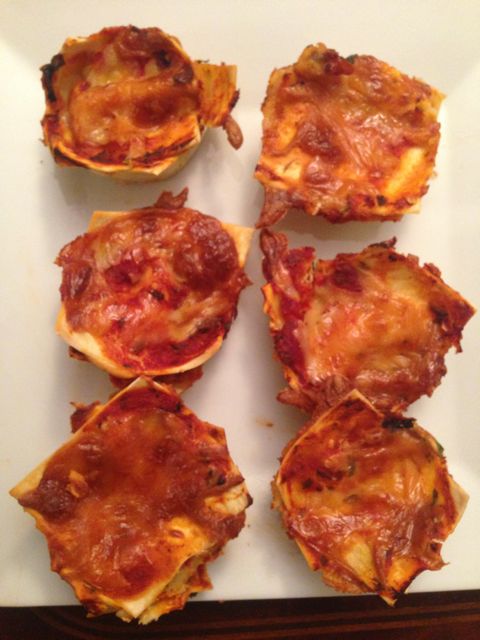 I served these lasagna cupcakes to guests on a Sunday night along with Asparagus Soup and a Curly Cucumber Salad. Everyone was pretty happy. Naturally the leftovers went into the freezer and will come in handy one day when I'm low on groceries or have no time to make dinner!! (it happens to all of us, right?).