T'is the season that pumpkins are everywhere!! I'm not complaining as I adore pumpkin pie but didn't want to go thru the process of making crust. Know what I mean? So I went online (for a change) to see what other options are out there and naturally I was inspired.
I bought a can of Pure Pumpkin and made two recipes with it and still have some left!!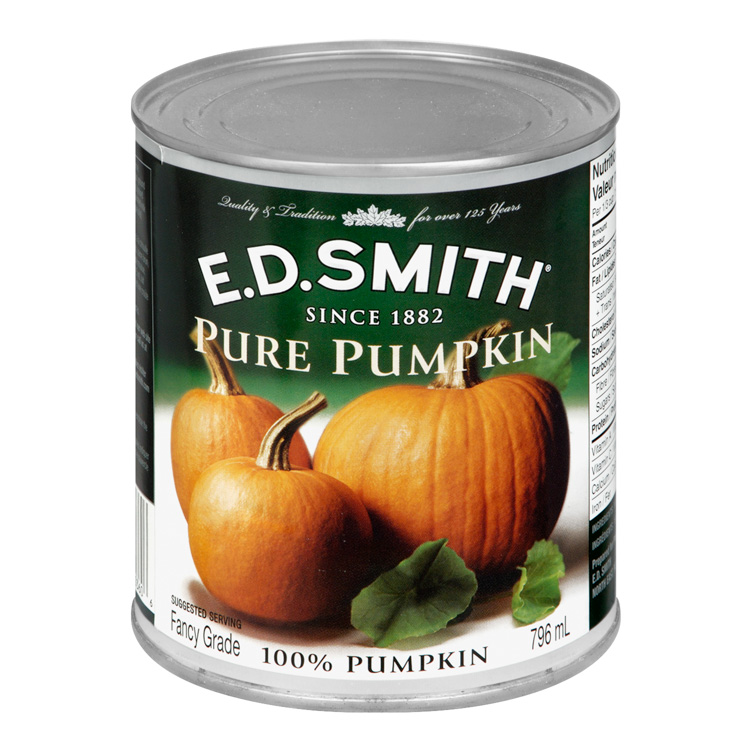 Recipe #1…Pumpkin Pudding (for the original recipe please click on www.myrecipes.com). This recipe is super easy and only required 6 tablespoons of sugar. #loveit.
INGREDIENTS
1 3/4 cups 1% low-fat milk
1/2 cup canned unsweetened pumpkin
1 teaspoon vanilla extract
1/2 teaspoon ground cinnamon
1/8 teaspoon ground nutmeg
1/4 cup chopped walnuts (I left this out)
1/4 cup heavy whipping cream
 DIRECTIONS
 1. Combine 6 tablespoons sugar and 2 tablespoons cornstarch in a medium saucepan over medium heat. Combine milk and egg, stirring well with a whisk. Gradually add milk mixture to sugar mixture, stirring constantly, and bring to a boil. Cook for 1 minute, stirring constantly. Remove from heat.
2. Combine pumpkin and the next 4 ingredients (through ground nutmeg) in a bowl, stirring well. Slowly add pumpkin mixture to milk mixture, whisking constantly. Place pan over low heat, and cook for 3 minutes or until thoroughly heated, stirring constantly (do not boil). Divide pudding evenly among 4 dessert bowls, and cover surface of pudding with plastic wrap. Chill.
4. Place cream in a bowl. Beat with a mixer at high speed until stiff peaks form. Top each serving with 2 tablespoons whipped cream and about 1 tablespoon nuts. (I omitted the nuts and simply sprinkled it with some whip cream).
FINAL RESULT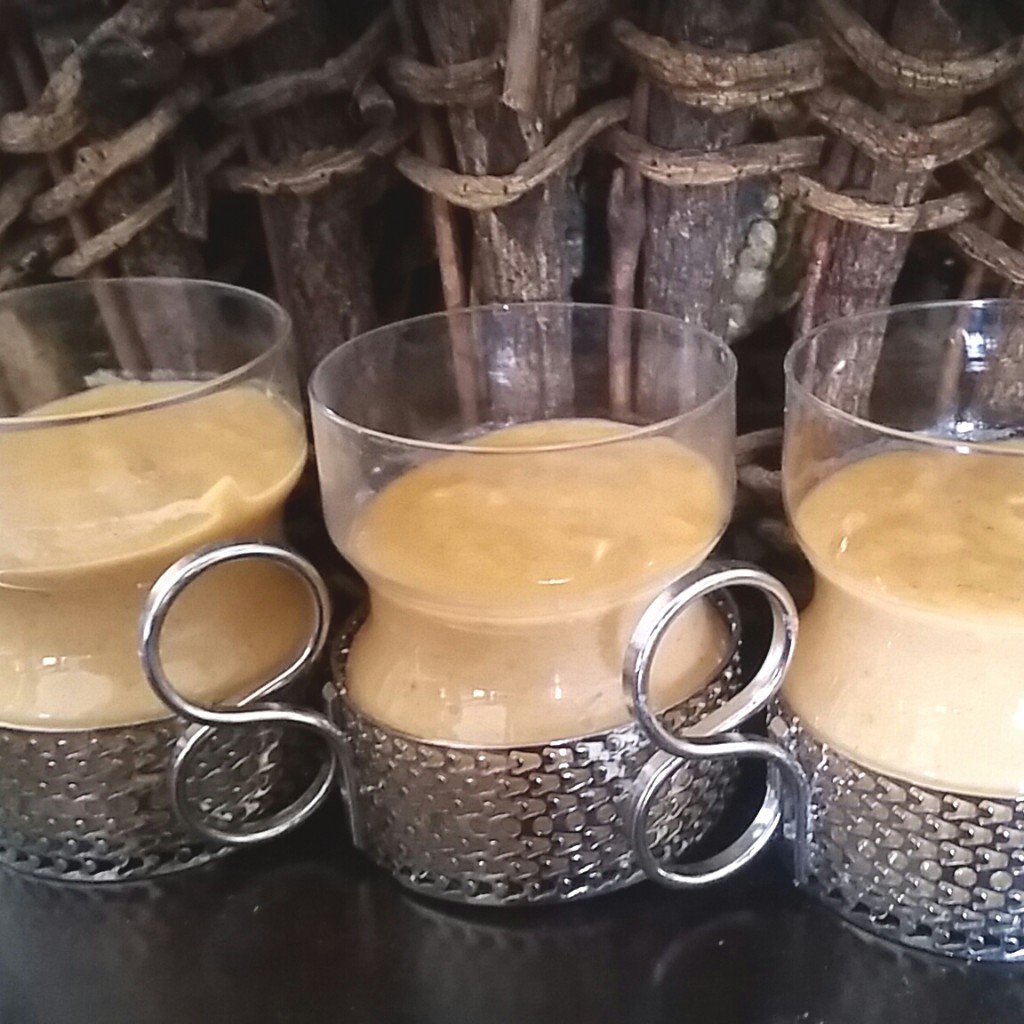 Recipe #2….Pumpkin Chocolate Chip Bread OR Muffins (taken from Sally's Baking Addiction). I have used her recipes before and will continue to use her recipes! She always has some little tip that will make a difference ie. the addition of orange juice.
INGREDIENTS
1 and 3/4 cups (220g) all-purpose flour
1 teaspoon baking soda
2 teaspoons ground cinnamon
1/4 teaspoon ground nutmeg1
1/4 teaspoon ground cloves1
3/4 teaspoon salt
2 large eggs
3/4 cup (150g) granulated sugar
1/2 cup (100g) packed light or dark brown sugar
1 and 1/2 cups (340g) pumpkin puree (canned or fresh)
1/2 cup (120ml) vegetable oil, canola oil, or melted coconut oil
1/4 cup (60ml) orange juice
2/3 cup (120g) semi-sweet chocolate chips2
DIRECTIONS:
Adjust the oven rack to the lower third position and preheat the oven to 350F degrees. Lowering the oven rack prevents the top of your bread from browning too much too soon. Spray a 9×5 inch loaf pan with non-stick spray. Set aside.
In a large bowl, whisk the flour, baking soda, cinnamon, nutmeg, cloves, and salt together until combined. In a medium bowl, whisk the eggs, granulated sugar, and brown sugar together until combined. Whisk in the pumpkin, oil, and orange juice. Pour these wet ingredients into the dry ingredients (follow this step carefully..it makes a difference) and gently mix together using a rubber spatula or a wooden spoon. There will be a few lumps. Do not overmix. Gently fold in the chocolate chips.
Pour the batter into the prepared loaf pan. Bake for 60-65 minutes, making sure to loosely cover the bread with aluminum foil halfway through to prevent the top from getting too brown. The bread is done when a toothpick inserted in the center comes out clean with only a few small moist crumbs. This may be before or after 60-65 minutes depending on your oven, so begin checking every 5 minutes at the 55 minute mark or so. (my muffins took about 20 minutes to bake)
Allow the bread to cool completely in the pan on a wire rack before removing and slicing. The bread will stay fresh in an airtight container (it tastes better on day 2!) at room temperature or in the refrigerator for up to 10 days. But it won't last that long.
Make ahead tip: Baked bread can be frozen up to 3 months. Thaw overnight in the refrigerator and bring to room temperature before serving.
Additional Notes:
You can use 1/2 teaspoon pumpkin pie spice instead of these spices.
Try using milk chocolate, white chocolate, dark chocolate, or even pecans/walnuts instead of the semi-sweet chocolate chips
FINAL RESULT: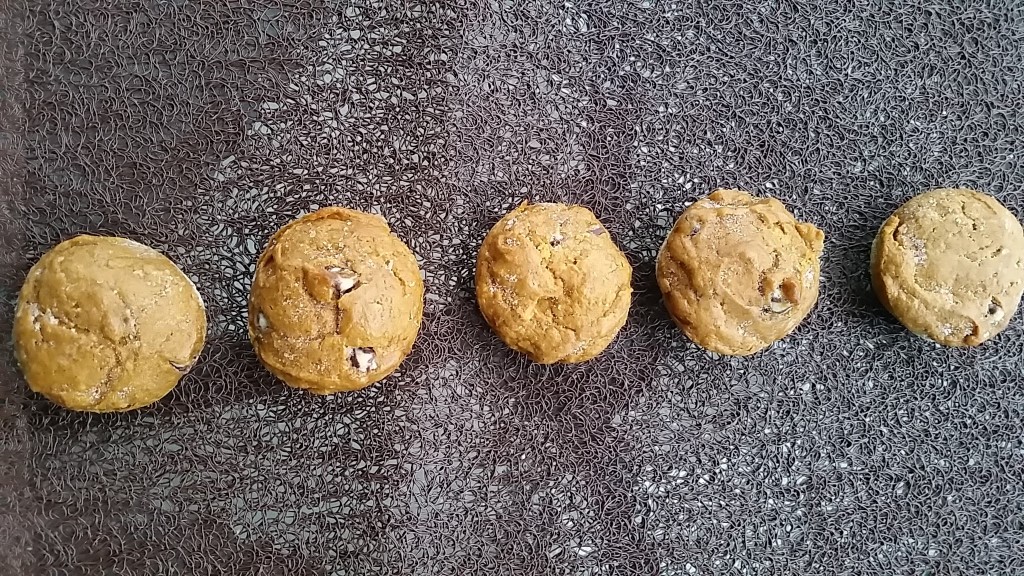 HAPPY BAKING!!