When I was asked if I would be interested in interviewing Canadian two-time Olympic medalist and four-time Olympic Triathlete,….Simon Whitfield….I didn't hesitate to say YES!!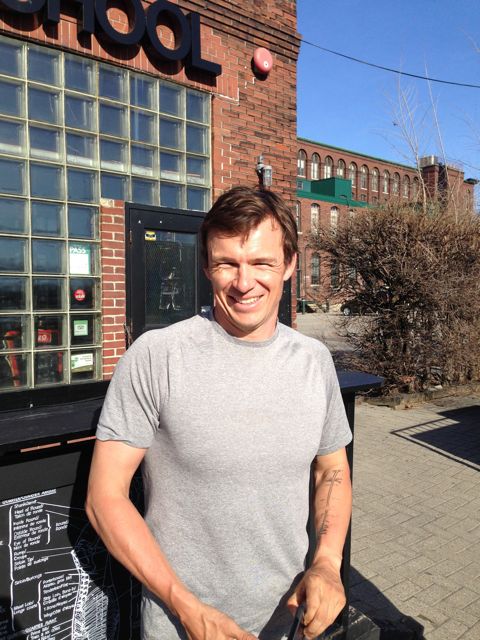 Here's a recap of the interview!
Momwhoruns: I drink coffee after I run on the treadmill. Not good, right? What should I be drinking?
Simon: Chocolate milk!!
Momwhoruns: Any tips how I can get motivated to get off the dreadmill and start running outside?
Simon: There's nothing wrong with running on a treadmill but I would suggest running on an incline of 1%.
Momwhoruns: I understand you are a huge fan of Chocolate Milk. How would you answer this question: chocolate milk AND _____________.!
Simon: Chocolate milk and a banana with almond butter
Momwhoruns: Sometimes after a workout I just want to nap – what am I doing wrong? shouldn't I feel energized?
Simon: Perhaps you you don't have the right pre workout fuel?
Momwhoruns: What's your cheat food?
Simon: A good croissant!
Momwhoruns: Do you add chocolate milk to any smoothies? I bet that's a great way to incorporate chocolate milk into a post recovery workout drink.
Simon: My favorite combo is chocolate milk, greek yogurt, blueberries and lemon fish oil
Momwhoruns:  Avocado Chocolate Pudding: yay or nay?
Simon: Those are two of my favorite foods but I have never tried this combo.
Momwhoruns: What do you remember about your first triathlon?
Simon: I was 11 years old and I wore a Mickey Mouse hat and boxer shorts with cows on them.
Momwhoruns: Any advice for momwhoruns so she can keep on running?

Simon: Consistency
Clearly Simon is a huge fan of Chocolate Milk as it's an ideal recovery drink after vigorous exercise that helps people to rehydrate, refuel and recharge their bodies.
Here's a photo of me listening to Simons advice!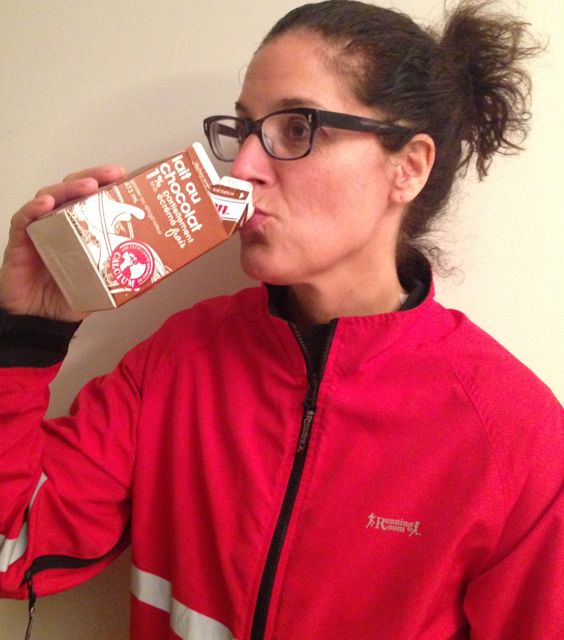 I also want to share a (cool) contest that's going on. Please click on RechargewithMilk.ca!  for complete information and all the details!!
The contest involves a prize that is a runner's dream …(seriously)
Residents of Ontario and Atlantic Canada have the chance to win a 12-week training program with four-time Olympian and Canadian triathlete, Simon Whitfield, as their very own personal trainer to prepare for one of the races at the 2015 Halifax Blue Nose Marathon or the

2015 Mississauga Marat

hon. 

The winner will also receive an all-expense paid trip for two people to the Halifax Blue Nose Marathon or the Mississauga Marathon, new running gear and a supply of chocolate milk.
This prize is valued at approx $10,000.
 The contest is super easy.
Once registered, (again, visit www.RechargewithMilk.ca)  you will be immediately entered to win one of the weekly prizes.
Share your post-workout routines on Twitter and/or Instagram using the #RwMRewards hashtag.
The more post-workout routines you share, the better your chances to be selected by the panel of judges to win the grand prize!
Click on the link for the Recharge Rewards contest
Many thanks Dairy Farmers of Canada for arranging this interview.