What do you prefer……pancakes or french toast? It's a hard question, don't you think?  I don't even know the answer to this question..I truly like both. I posted this question on twitter tonite and here's the results: 8 people preferred french toast and 3 people preferred pancakes. Good thing this blog post is about French Toast!!
A few months ago, I came across a recipe called CRUNCHY FRENCH TOAST and I thought that it would be fun to try, seeing as I make the same type of  french toast ALL THE TIME.
The recipe is from a cookbook called Bubbies Brunch Cookbook by Ron Silver.  I only tried this recipe once but I would certainly like to try more from this cookbook. i.e Banana Walnut Pancakes. YUM.
Here's what you need: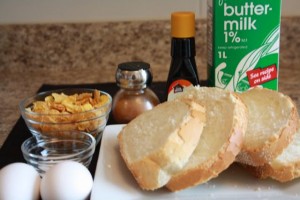 INGREDIENTS:
2 cups crushed cornflakes
1/2 teaspoon cinnamon
2 tablespoons sugar
4 extra large eggs
1/2 cup buttermilk
1/4 cup packed brown sugar
1/4 tsp vanilla extract
pinch of salt
8 thick slices of bread
butter for the griddle (or skillet)
METHOD:
1. Crush the cornflakes (I simply used my hands).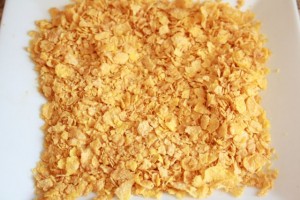 2. Mix the crushed cornflakes,1/4 tsp cinnamon and the sugar and put on a plate
3. Whisk or use a mixer and beat the eggs until frothy. Add the buttermilk, brown sugar, salt. 1/4 tsp cinnamon. Beat for another minute.
4. Dip the slices one at a time into the egg mixture, turning to coat both sides.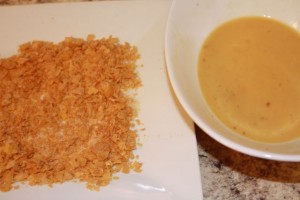 5. Carefully place the slice onto a griddle or a skillet on medium heat. Flip over after to 2-3 minutes.
FINAL RESULT:
I think you will agree with me, that this is delicious. The addition of the crushed cornflakes really kicks it up a notch. I certainly know that I will be using this recipe again.
So, back to the original question: French Toast or Pancakes?
Can't wait to hear your answers.