Kitchen stores like Teatro Verde in Bayview Village are dangerous stores for me. I'm bound to buy something and indeed I did buy something. Here's an example:  See this display? Well…it really worked. I actually stood there…. watched the video and then bought the Rice Cube.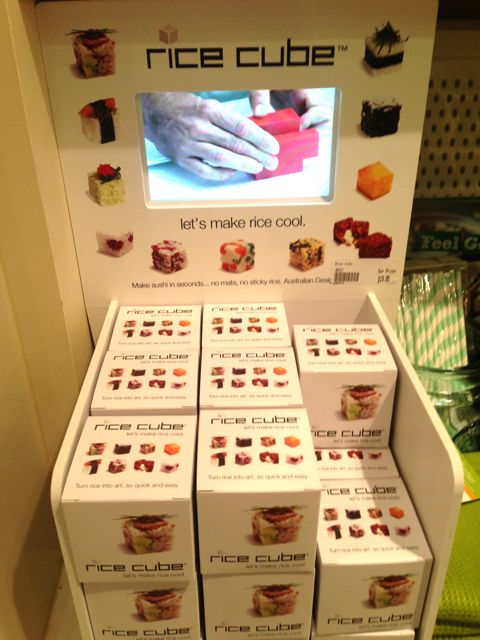 I must add, that I was  (really) nervous to buy this kitchen gadget, as it was $19.99 and there is no refund or exchange policy at this store. But I did. Go figger.
When I got home, I took out my beloved Rice Cooker (thanks @isfalk for ensuring I bought one back in 2010) and my USA Rice and made a batch of sticky rice.
Then I inserted the cooked sushi rice into the little compartment. (photo on the left). Step 2 involved  closing the lid ( photo on the right) and then Step 3 involved taking out the CUBE OF RICE. No fuss. No muss.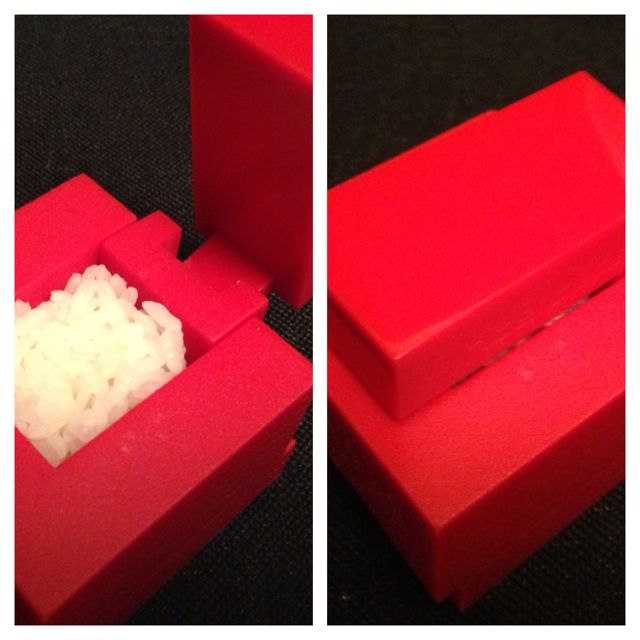 Here's the end result. I was all too happy to serve this to my guests that were coming over for dinner.
This kitchen gadget is certainly going to be motivating me to use more USA Rice.  Also I've recently discovered this Rose Reisman Video that I would like to share with you. This video demonstrates the versatility of rice, the health benefits as well as a recipe for a quick and healthy rice salad.
I can't wait to make these cubes again and top them with chopped nori, or black and white toasted sesame seeds. So many ideas. So little time!!
For more information:
Teatro Verde, Bayview Village, 2901 Bayview Ave, 416 733 4448
Disclosure: I was provided with compensation for this post, however all opinions and ideas expressed are my own.