I have just returned from a family reunion in Ottawa. Naturally I made sure to include a visit to the Byward Market and to Landsdowne Farmers Market as part of the schedule. What's interesting is that no matter how many times I visit the Byward market or the farmers market – there is always something new to discover!!
On this particular trip, I discovered the newly opened Murrays Market. (261 Dalhousie St). The space is just gorgeous and totally suitable for a tweet up – so I made sure to talk to Emma and Chef Steve about this possibility. Beautiful cheeses, meats, local honey and MichaelsDolce jams were on display, but I zeroed in on my favorite food: a grilled cheese sandwich!!  Murrays Market makes it with Glengary's Lankaster gouda cheese, red pepper jelly on egg bread.  I was a happy camper. I especially liked the addition of the red pepper jelly to the sandwich. Kinda kicked it up a notch. The side of homemade ketchup was welcome too!!
At the Landsdowne Farmers Market this year, I stumbled upon a new vendor called Suzy Q Doughuts. The Doughnut was yeasty and fresh. (in other words – perfect) I really hope this vendor will be around for a long time, cause there is nothing like a FRESH donut.  @FoodiePrints shared one and I shared mine with @michaelscolce. I asked the vendors, if they had a retail location and they said "no – they are just at Landsdowne Farmers Market each Sunday". Turns out – she is a postal worker and he is a woodworker during the week, but on the weekends they clearly have a passion for making donuts!! To top it off – my cuzin knows this couple well. (small world).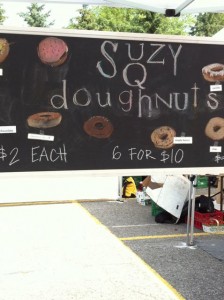 Now the next discovery – isnt really a discovery. I've been eating at Aladdin Bakery (1801 Carling Avenue) for the past several years, even though they have been around for 14 years. I was told they can easily serve 800 Fatayers' in one day. Fatayer is what everybody orders here – It's  a slab of thick chewy bread, with a topping of your choice and then warmed in a tradtional brick oven. You cant go wrong here for $2.25!!
It was so much fun to see my cousins and be in Ottawa during Canada Day. In the event you are wondering if I saw the Royal Couple. The answer is No. I was too busy eating and shmoozing with 26 fabulous cousins!! Must sign off now and head to the gym….